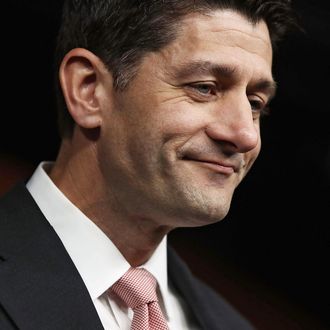 Compromise?
Photo: Win McNamee/Getty Images
Last week, Democrats seized the House floor and staged a sit-in that lasted 25 hours to demand a vote on gun-control legislation. The House is currently adjourned for its July 4 holiday, but Speaker Paul Ryan has announced that Democrats and Republicans alike have something to look forward to after the long break: a vote on gun legislation.
Ryan reportedly said on a call on Thursday with GOP lawmakers that he's putting a "terrorism package" up for vote, which will likely include a bill to prevent someone on the terror watch list from instantly purchasing a firearm. This might not be a victory for Democrats, through. Right now, it sounds as if the House bill will be one proposed by Lee Zeldin, a Long Island GOP congressman, that resembles NRA-backed Senate legislation proposed by GOP senator from Texas John Cornyn. The Senate Democrats have already rejected that bill, which would delay the sale of a gun for 72 hours to a terror-watch-list suspect so a judge can rule on whether there's probable cause that a buyer is actually involved in terrorist activity.
Democrats had wanted to vote on a measure to ban the sale of all guns to anyone on the "no fly" list, with the possibility of appeal. There is a House bill with bipartisan support that would do just that, but it's doubtful that bill will be presented next week. Democrats are also pushing another piece of legislation that would require universal background checks for firearm sales, including private sellers at gun shows and online. That almost certainly will not come up for a vote, though the "terrorism package" will likely include a mental-health bill, and a measure to help fight against and interrupt radicalization by terror networks.
"House Democrats will keep up our efforts to push for the majority to allow a vote on gun violence legislation," a spokesman for Minority Leader Nancy Pelosi said, "but bringing up a bill authored by the NRA just isn't going to cut it." Democratic lawmakers, true to their word, have been advocating for gun control while the House is out of session. Many across the country joined in Wednesday for "day of action" events against gun violence.