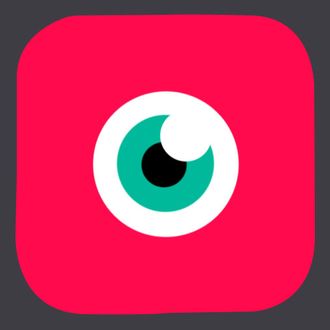 If you look at the top five spots on the Apple App Store "free" chart right now, you'll find Facebook in fifth place. Instagram and Snapchat ring in at fourth and third, respectively, and Facebook Messenger takes second place. But the winner is a new, live video streaming app you've probably never heard of called live.ly. And it's about to be everywhere.
The app, complete with its creepy eyeball icon, was only fully released on the app store last Thursday. Since then, it has been downloaded by over half a million people and counting, TechCrunch reports. With Periscope, Facebook Live, and Tumblr Live Video, the streaming space is already fairly crowded, which makes live.ly's jump to the top so impressive. (Also, its parent company did almost no promotion for the new app.)
Or at least it seems impressive until you realize live.ly is the livestreaming arm of the same company that created musical.ly, a megapopular lip synching app which raised $100,000,000 earlier this year. Musical.ly is only about a year old and in that time has seen 100 million downloads, predominantly from teens. (Variety reports that 50 percent of all U.S. teens have the musical.ly app.) Live.ly's overnight success can be linked directly to those same teens downloading the app based on their already honed obsessions with musical.ly. Which bodes well for when the two apps eventually integrate and the whole world is ruled by teenagers from their phones.