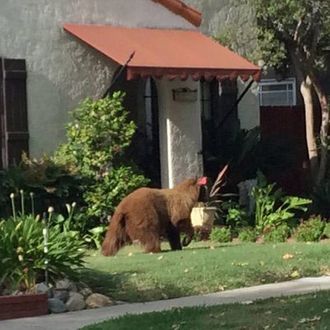 It has been over a year since the great llama chase of 2015 stopped any and all work from happening on the internet and provided humanity with pure entertainment for a solid 18 minutes.
But now, a bear wandering the city of La Cañada Flintridge, near Los Angeles, California, seems poised to become the web's newest rogue-animal phenom.
The bear was first seen at 10:30 this morning, KTLA reports, and has been on the move ever since. While there isn't a continuous livestream, KTLA has been doing an excellent job of keeping people entertained, I mean, keeping people informed, on its Twitter account. Here's the bear taking a dip in someone's pool. (You can watch an aerial video of the swim here.)
More recently, the bear was spotted in a tree.
As of publishing time, it appears the ursine runaway is still at large, but authorities are attempting to lure the animal back to safety and away from any unsuspecting swimming pools. We will be updating as more information becomes available.