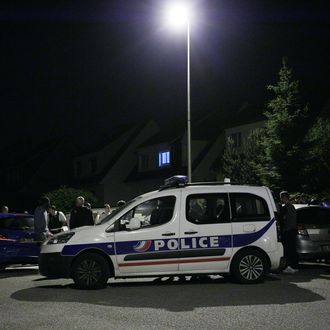 French police blockade the street near the victim's home in Magnanville.
Photo: MATTHIEU ALEXANDRE/This content is subject to copyright.
On Monday evening, a French police captain and his wife were killed at their home in the town of Magnanville, about 35 miles from central Paris, by a man who claimed allegiance to the Islamic State. According to The Guardian, the policeman — identified by French media as 42-year-old Jean-Baptiste Salvaing — was standing outside his house when the assailant, who was reportedly a neighbor, approached him and fatally stabbed him. The attacker then entered the house.
Members of an elite French police unit arrived and tried to negotiate with the attacker, who reportedly told officers during negotiations that he was aligned with ISIS. But an interior-ministry spokesperson told The Guardian that "negotiations were unsuccessful," therefore "a decision was made to launch an assault." When police entered the home, they found the body of the officer's spouse, who had worked for the ministry. But the couple's 3-year-old son was unharmed.
According to the SITE Intelligence Group, the Amaq News Agency — one of the Islamic State's many media arms — issued a statement after the attack that read: "Islamic State fighter kills deputy chief of the police station in the city of Les Mureaux and his wife with blade weapons." French prosecutors have launched an anti-terror probe into the attack, which French president François Hollande called "a cowardly murder" and an "odious act."