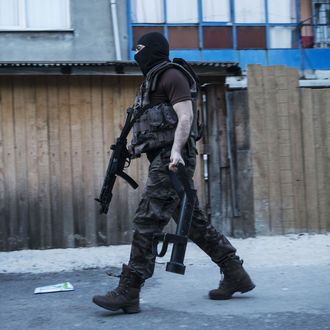 Turkey anti-terror raids.
Photo: Arif Hudaverdi Yaman/Anadolu Agency/Getty Images
Turkish officials say they have identified the three attackers who carried out Tuesday's terror rampage in Istanbul's Ataturk Airport. Two suicide bombers fired automatic rifles and blew themselves up outside a security checkpoint; a third bomber detonated his vest in a parking lot in a rampage that killed a total of 43 people and wounded more than 200.
Turkish authorities said the suspects are from Russia, Uzbekistan, and Kyrgyzstan, and they likely crossed into Turkey from Raqqa — ISIS's capital in Syria — with up to four others a month ago. Some local media sources are identifying the Russian man as Osman Vadinov, who is originally from Dagestan and of Chechen descent; Vadinov may have crossed at least once before from Syria to Turkey in 2015. DNA testing of the bombers will hopefully confirm Vadinov's and the other bombers' identities. According to the New York Times, about 7,000 Russian and Central Asian fights have gone to Syria since the civil war broke out. Russia, whose relations with Turkey are pretty frayed after the country shot down a Kremlin fighter jet, did at least agree to cooperate with Turkey to combat terrorism after the attack, reports The Wall Street Journal.
ISIS has not claimed formal responsibility for the attack, but Turkish authorities strongly believe the men were affiliated with or radicalized by the terror group. The Guardian reports that Turkish pro-government media suggested that a Chechen ISIS commander named Akhmed Chatayev may have been the mastermind behind the attack, though officials haven't confirmed. Police raided the attackers' Istanbul apartment Wednesday and confiscated evidence. In a detail that sounds eerily similar to that of the ISIS-linked Brussels attack in March, the three bombers apparently hailed a taxi and calmly headed to the airport. 
Early Thursday morning, Turkish officials swept through parts of Istanbul and Izmir, a coastal city, conducting a series of anti-terror raids. Police detained more than a dozen people, including three foreigners. Reuters reports that some of the arrested are suspected of providing logistical support for the Ataturk bombings.