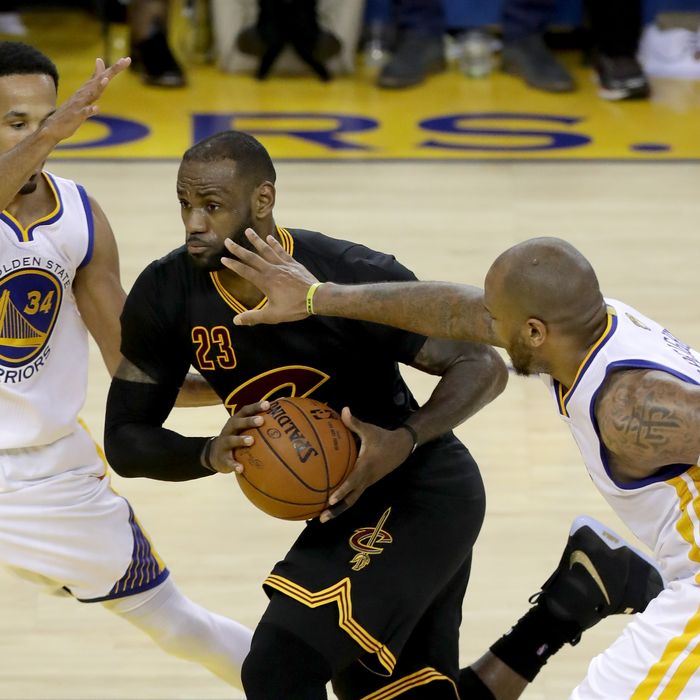 LeBron James of the Cleveland Cavaliers drives to the basket between Shaun Livingston and Marreese Speights of the Golden State Warriors in the second half in game five of the 2016 NBA Finals.
Photo: Ronald Martinez/2016 Getty Images
For a while, the 2016 NBA Finals were … well, bad. The first three games between the Cleveland Cavaliers and Golden State Warriors were routs, two of them by 30 or more points, and there just wasn't enough competitive basketball going on for a Finals series featuring so much elite talent. Luckily, the stink has drifted off this series like fog parting on the San Francisco Bay: All of a sudden, after a surprising and surprisingly easy 112–97 victory for the Cavaliers at Oracle Arena in Oakland during Monday night's game five, we're just a Cavs victory at home from the NBA holy grail of a seven-game Finals series. Kyrie Irving gets the lion's share of the credit for the biggest game of his young career, but LeBron James clearly wasn't ready for his off season either. The two exploded for 41 points apiece.
Going in, the Warriors had a very good chance to close things out in five games tonight, but they were also facing a gaping hole in their starting lineup, with Draymond Green suspended for breaking the playoff flagrant-foul limit for — no light way to put this — hitting James in his nether region in game four.
Green's replacement in the starting lineup, Andre Iguodala, had a great, thoroughly Iguodala-esque first quarter — eight points, four rebounds, three assists, and two steals — and Stephen Curry dropped in ten, getting off to a fast start for once in this series. This could have been bad news for the Cavs early on, since potential closeout games for home teams are emotional tinderboxes, especially in an arena like the Oracle — any early run can blow the game wide open. But the veteran Cavs stayed with the Warriors rather valiantly early on. Thanks in large part to strong shooting from James and J.R. Smith (12 and 10 points, respectively, in the first quarter), and a last-second jumper from James — and, of course, the absence of Green — the Cavs went into the break down just 3, 32–29.
It was much of the same in the intense second quarter. The Cavs counterpunched whenever it seemed like the emotional tide was turning in the Warriors' favor — a tremendous dunk by Shaun Livingston tied things up at 38–38 a few minutes into the quarter, but Irving took it right back down the floor and nailed a pull-up jumper. Even as Klay Thompson caught fire (26 in the first half), the Cavs matched the Warriors' scoring pace largely thanks to James, who had 25 points of his own in the first half, and Irving, who had 18. It was an explosive, wildly entertaining half that ended in what felt like a very appropriate 61–61 tie.
In the third, the Cavs started to take control. There were some interesting matchups, with Golden State opting for some ultra-small-ball lineups in which Harrison Barnes was the ostensible center (in part because Andrew Bogut went out with an injury). The Cavs went on a nice run to push their lead to 8, 74–66, behind some stout defense, including blocks from James and Tristan Thompson, and relentlessly steady scoring from Irving and James. The Cavs just kept responding whenever the Warriors threatened: An Iguodala three cut it to six with a few minutes left in the quarter, and James immediately matched with a tough trey of his own. It was 93–84, Cavs, going into the fourth, and the Cavs' elite scorers had already left a game's worth of effort out on the court: After three, Irving had 29 points on a sizzling 12–15 from the field, and James had 36 on 14–23.
Given the dynamics of potential closeout games for home teams, it was key, early in the fourth, for Cleveland to not let the Golden State claw back to within shooting distance. They got off to a bad start on that front — Curry hit a contested three on the first possession of the series, as a resting James looked on from the bench. But again, Cleveland immediately answered, this time with a pull-up bank shot from the still-hot Irving. The Warriors continued to struggle defensively without Green. At one point, Anderson Varejao failed to react to a pick, instead freezing as James walked the ball up to the free-throw line and hit a totally uncontested jumper (Varejao made up for it a minute later with an excellent hustle play to help the Warriors keep possession at the other end). The Warriors had a couple of good opportunities to pull within a couple of possessions but couldn't — Curry missed a wide-open three a few minutes in, for example. Shortly after that, Irving hit a tough turnaround jumper from inside, getting fouled in the process. His free throw pushed the lead to 10, 102–92, with 7:30 left.
A sequence with about seven minutes may have decided the game: First, Klay Thompson hit a beautiful off-balance pass off an inbounds. Then a lackluster Cavs possession with no ball movement led to a missed James three, and Curry hit an easy jumper at the other end to cut the lead to six — dangerous times for the Cavs. But not for long: Irving quickly answered with a tough runner, and then a bad pass on the next Cavs possession led to a jump ball that the Cavs won, leading to another remarkable Irving turnaround, followed by another Irving trey after a Curry miss. All of a sudden, thanks to Irving's explosion in what was already the game of his life (he had 10 consecutive Cavs point during the fourth), it was a 13-point game with five minutes left, and Cleveland was easily able to hold on — the Warriors' starters were pulled with two minutes left.
You can't reduce two teams' performances to the presence or absence of a single guy, of course, but it would be hard to overstate the impact of Green's suspension. Hardly anyone in the league has as much of a two-way impact as Green, and it's not an accident that, in a game in which the Warriors' defensive cold-hearted Terminator was out, Irving and James combined for 82 — the first time, an ABC graphic pointed out, two teammates have ever had 40 or more points in the same Finals game. (Kevin Love, back in the starting lineup after coming in off the bench in his game-four return from a head injury, only shot five times, scoring two points, not that he was needed on offense.) Klay Thompson's 37 points and Curry's 25 (on inefficient 8-for-21 shooting) were rendered afterthoughts by the dazzling Irving/James show.
Game six is Thursday night. And if the Cavs hold court, game seven will be on Sunday — an outcome that seemed wildly improbable just a few days ago. Let's not overcorrect: This has by no means been a great series, what with its absence of the to-the-wire suspense that can make NBA playoff games so incredible. But it could still be working up to something special.