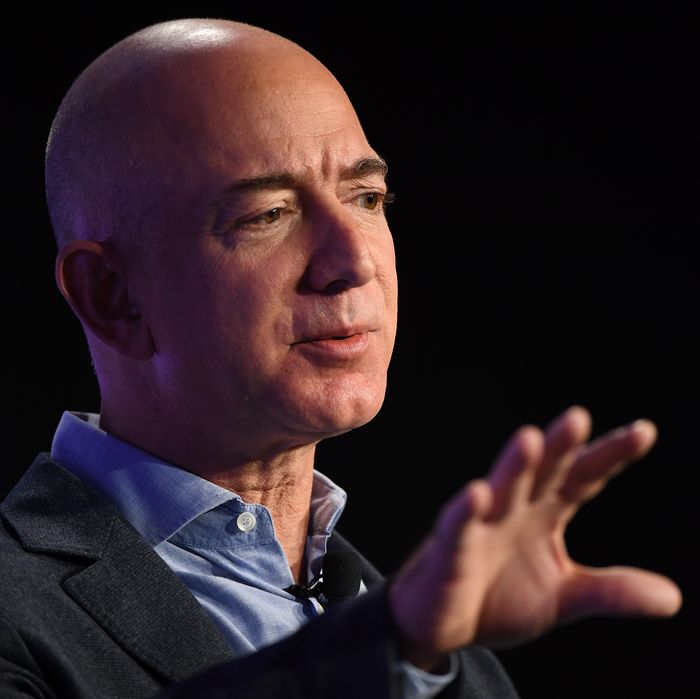 Jeff Bezos at a Washington Post event in May.
Photo: Linda Davidson/Getty Images/The Washington Post
There are only a handful of major tech companies less press-friendly than Amazon, which is legendary for its frequent refusal to comment to or speak with (or often even acknowledge) reporters. Last October, Amazon spokesman Jay Carney published a lengthy and aggressive rebuttal to a long New York Times investigative story about Amazon's workplace environment — in the process publishing emails from the reporter, Jodi Kantor, and accusing one of the Times' sources of fraud. In other words, if you were looking for a free-press hero among tech barons, Amazon's founder and CEO, Jeff Bezos, probably isn't the first guy on your list.
But Bezos is more than a tech baron — he's also a press baron, thanks to his 2013 purchase of the Washington Post, and he appears to be growing into that role quite well. Last night, at Recode's Code conference, Bezos earned himself an enormous amount of goodwill among the media class, showing his confidence in the Post as an institution and paraphrasing Confucius to disparage tech investor Peter Thiel's decadelong crusade to destroy Gawker Media by funding lawsuits against the company. "Seek revenge and you should dig two graves — one for yourself. You have to ask yourself how you want to spend your time," he told the audience. "The best defense against speech that you don't like about yourself as a public figure is to develop a thick skin," he said.
Those comments, as well as Bezos's unqualified approval of the Post's dogged coverage of presumptive GOP nominee Donald Trump, have repositioned Bezos — in most portrayals a rapacious, efficiency-obsessed capitalist — as something of a rarity: a Silicon Valley pragmatist, giving the Post a financial backstop without aggressively trying to reshape journalistic practices. It's something that should likely be expected from the owner of one of the country's biggest newspapers, but it's a mark of how far the gulf has widened between journalists and the tech industry that it feels refreshing to hear a prominent tech executive defend unequivocally the act of journalism.
As far as Silicon Valley is concerned, the publishing industry is at best hidebound and at worst unethical, a dinosaur that betrays the public trust with salacious gossip, "click bait," and distorted facts. Conveniently and unsurprisingly, of course, that gossip and those distorted facts tend to concern the figures and businesses of the tech industry. Given the enormous, life-giving power the technology industry (and Facebook, on whose board Thiel sits, in particular) now has over media, this is a scary prospect for many journalists: Not only do these executives and engineers more or less control those journalists' destiny, they also despise them for doing their jobs.
Not so Bezos, or at least not so publicly: "It's just a fact that we live in a world where half the population on this planet, if you criticize your leader, you could go to jail or worse. And we live in this amazing democracy, with amazing freedom of speech, and a presidential candidate should embrace that."
Tycoons controlling media is hardly a new thing, but compare Bezos's stewardship of the post with the slow-burning fire happening at the Las Vegas Review-Journal, which is caught between maintaining journalistic integrity and its new and interfering owner, Vegas billionaire Sheldon Adelson. No such conflict has emerged at the Post — yet — and Bezos seems to at least have an solid understanding of the challenges facing the newspaper industry, and experience dealing with them.
"We have to go from a business model where we used to make a relatively large amount of money per reader with a relatively small number of readers," he explained to Recode's Walt Mossberg (transcript via Ben Thompson), "to a model where we make a relatively small amount of money per reader but on a very large amount of readers." In other words — as Mossberg pointed out — Amazon's business model.
Bezos is certainly leveraging the Post to boost Amazon, and leveraging Amazon's large customer base to boost the Post's prominence (disclosure: I worked on one of these initiatives, which offered Post access on Amazon Fire tablets). Last night, he proclaimed that because of the web's low distribution costs, the Post has the potential to be a "global newspaper." It remains to be seen if that's true, or, even if it is, whether that means the Post can stay good. But what Bezos appears to understand, and what Thiel clearly does not, is that the enormous power that comes with tech-industry wealth is better used to protect journalism, not to undermine it.
A previous version of this post stated that Bezos bought the Post in 2014. It has been updated with the correct year, 2013.