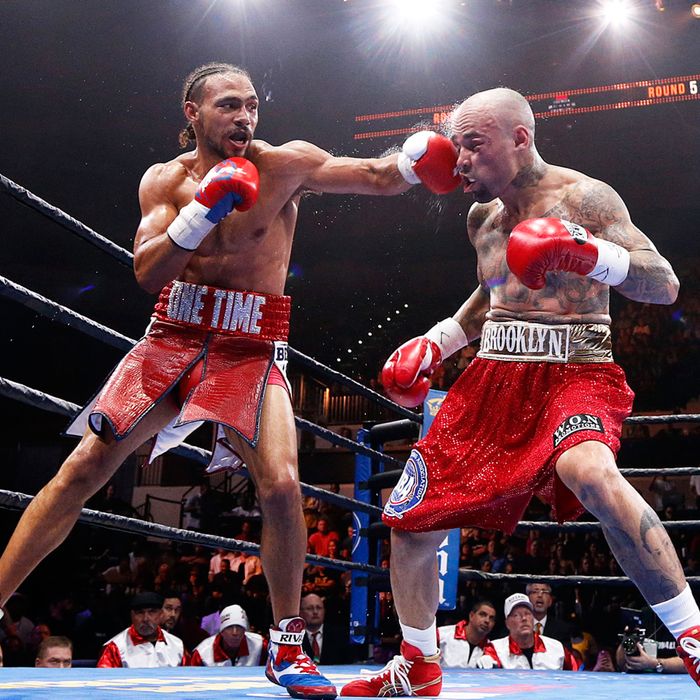 Keith Thurman exchanges blows with Luis Collazo during the WBA Welterweight fight on July 11, 2015
Photo: Brian Blanco/Getty Images
Keith ("One Time") Thurman, the undefeated welterweight champ who defends his title Saturday night at the Barclays Center in Brooklyn against top challenger Shawn Porter — the first prime-time boxing match broadcast on CBS since the 1978 Ali–Leon Spinks bout — was talking on his phone as he rode uptown.
Thurman, a sleek-looking 27-year-old with piercing brown eyes and a long flowing mane he ties back in a ponytail, spoke with a politeness indicative of his small-town upbringing in Clearwater on the Florida Gulf Coast. "Oh, yes, ma'am. I'm in town only for a short time. I'm on a tight schedule. I have kind of a busy weekend coming up. Five o'clock today? That's good." Thurman then read off the number of his credit card and hung up.
Asked what that was about, Thurman said, "Colonic. Got to have my colonic."
Getting his colon cleaned out was part of his pre-fight ritual, Thurman said. "This is a tough fight. You have to take every precaution. Get rid of residues. Do you know the autopsies when people pass away and the pounds and pounds of feces are left inside of them? Toxins that sit in your intestines, they seep into your blood stream. It affects you. People say, 'Oh, I'm tired, I have a hard time thinking.' I'm defending my title. I can't have that."
Colonics might not be "thought of as the most tough-guy thing," Thurman noted. "But I knock people the fuck out for a living, so say what you want about it."
Even the old-school fight crowd curmudgeons acknowledge that Saturday's encounter is "a fight," which means it is a 50-50 betting proposition, a relative novelty in the current pugilistic marketplace. Not to take anything away from Porter, a stylistically gauche but terribly persistent sort, but Thurman, the laid-back bohemian, exotically handsome son of Polish-Hungarian mother and African-American father, is the one to watch here. 
His appeal is summed up in his multifaceted nickname, "One Time," which he inherited from his father. "My dad was a kind of Kimbo Slice–type street fighter. He'd go out in the backyards up and down the Gulf Coast and duke it out. They'd wrap T-shirts around their hands for gloves, and take bets. He was a tremendous body puncher. One shot was usually all it took, so they called him 'One Time.' I'm carrying that on, but my dad admits I've taken the name further than he ever did."
It isn't that Keith Jr. can't crack with either hand (he'd knocked out 22 of 26 opponents), but rather his "uniqueness" that makes him "One Time." Not even counting the colonics it would be hard to name another ranking fighter who taught himself to play half the Nirvana song book on the flute or engages in the visualization practice of what Thurman calls "interior ego inflation and popping."
This means, the boxer says, "I tell myself, 'You're great, you're powerful, you're strong. You're the greatest, most powerful, strongest fighter in the world. I acknowledge my greatness. I bow down before my greatness. I inflate myself like that, and then I pop the balloon in a single sentence by saying: You can be beaten. This business is a tightrope between ultimate ego and absolute devastation. You could lose. You could get knocked out. You could get in a car accident. I want to deal with the total truth of the situation. When you cross-reference the paths your life might take and modalities that might apply to you, I find I'm more at ease in a humble ground."
Thurman's fight with Porter is being billed as part of boxing's eternal search for the next big thing. Years ago, much energy was spent searching for "the next Ali." Now, with his apparent retirement, the position for "the next Floyd" is open. Thurman, who says he learned a lot about boxing from hanging around the pool hall — "angles, man. Boxing and billiards, its all angles" — has spent plenty of time game-planning on how he would beat Mayweather ("pressure and left hooks"). But even if many in the game think he's exactly the exciting boxer/puncher, black/white Jimi Hendrix, Prince, Barack Obama figure who could become the next "face" of the sport, Thurman himself says he has never wanted to "be the next Floyd Mayweather."
"The man is a genius, an Einstein scientist, but once he changed his nickname from "Pretty Boy Floyd" to "Money" that was an admission that he'd checked out on some deep level. Floyd is the only fighter who has Warren Buffett come to his dressing room. Now, Warren Buffett is a smart guy and all. He's got the portfolio. But he has nothing to do with boxing and everything to do with money. So maybe Floyd thought that was some great moment for him, the King of Money paying homage to another King of Money."
It isn't that Thurman, who drives a Prius despite already collecting a number of million-dollar purses, had anything against being rich. What it came down to it, he said, was "Do I want to watch Floyd Mayweather go into a jewelry store or buy a yacht when he's already got a yacht? Where's the joy in that?"
"Mayweather, Schmayweather," Thurman said wearily, sick of the topic. He began talking about who was a bigger hero for him, Muhammad Ali or kung fu star Bruce Lee. Ali was clearly the "greater universal figure," Thurman said. "I learned a lot from him. The triple jab, moving to the left. But I grew up watching Bruce Lee movies. I really loved him. I remember one time my mother took me to Walmart and they had three movies in a pack, like $20. I never remember wanting something more in my entire life. In Enter the Dragon when this student asks, 'What should I expect, master?' And Bruce slaps him and says, 'Expect nothing,' that had a big effect on me." It was funny, Thurman said, what stuck with you.
With the fight barely 48 hours away, Thurman was thinking about something he heard listening to The 700 Club on the Christian Broadcasting Network while doing his five miles on the treadmill that morning. "It is about spirit," the fighter said. "You know, there's me, there's you, and there's everyone else. But really we're all part of this great spirit."
It was about then that I started to get worried about Thurman, the flute-playing Florida nature boy. In the ring he was a total search-and-destroy kind of guy. The modicum of finesse he'd added to this basic formula was pleasing; it didn't matter about Mayweather, he was One Time, a force unto himself. But what was this talk about everyone being part of the same spirit? How did that apply to Shawn Porter, who, in the mode of Joe Frazier, never stopped coming? Was Thurman too cerebral, too possessed of human compassion to truly make it once the blazing lights of the harshest sport shone down upon him?
Thurman narrowed his eyes. "You know, it says a lot of things in the Bible. It says there's a time to sow the seed, a time to make the harvest, a time for honor, a time for respect, and there's a time for war. Saturday night, that is time for war."
With that, Thurman launched into exactly what he was going to do to Porter, a fighter he'd known for a long time and had personal affection for. "You know, I'm kind of itchy to put somebody out. Out cold. Too bad it has to be Shawn, but that's the way the chips crumble."
He could see it: Porter coming in low like a football player, crouched down because that's what he does. That was perfect for Thurman's right uppercut, which would detach Porter from his senses. It was kind of personal, Thurman said, since while he had nothing against Porter, he didn't care for Kenny Porter, the opponent's father and trainer.
"Kenny has said some things that were disrespectful, so I'll have to get at him by hurting his son." There was a Biblical verse about that "Daddy boy business" somewhere, or maybe it was a Greek play. He'd have to look that up after the fight, Thurman said. Either way, what was going to happen Saturday night would be "brutal."
Right then, a guy in a running suit came over to Thurman to say hi. "You ready?" the guy asked. Thurman nodded and waited for the man to leave before saying, "I hate that, people asking if I'm ready. I mean, I've been boxing for 20 of my 27 years. I train every day. I've taken punches from the best. I'm the champion of the world. I'm here to do the one thing I was born on this earth to do. And people wonder if I'm ready."