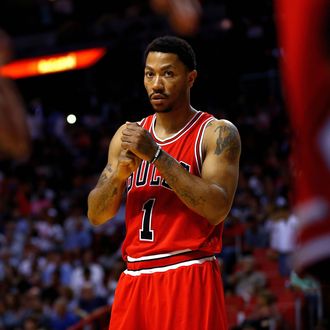 Photo: Mike Ehrmann/Getty Images
The New York Knicks just made the biggest trade-splash so far in the run-up to Thursday night's NBA draft: Derrick Rose, the Chicago Bulls' once-brilliant but injury-riddled point guard, will be joining the team. ESPN reports that "The Knicks are sending Robin Lopez, Jose Calderon and Jerian Grant to the Bulls, who are shipping Justin Holiday, Rose and a 2017 second-round pick back to New York, sources said."
For the Knicks, this is an attempt to add a third solid piece around their newly established core of Kristaps Porzingis, the talented and fan-favorite Latvian big man who was the best rookie in the NBA not named "Karl-Anthony Towns" last year, and the aging but still somewhat effective (especially as a volume scorer) Carmelo Anthony. For the Bulls, it appears to be a sign that they're ready to go all in on Jimmy Butler, their 26-year-old shooting guard, who has emerged as one of the best young two-way players in the league in recent years. Minnesota and Boston have both come after him hard this trade season, dangling packages that featured high draft picks in front of Chicago's front office, but were rebuffed — this can help explain why.
Once you get past the champion Cleveland Cavaliers, the Eastern Conference is wide open, and on paper this move gives the Knicks, who finished well outside of playoff shouting distance last year, a pretty intriguing and talented trio. That said, Rose has been absolutely devastated by injuries: After getting off to what looked like a possibly Hall of Fame–bound career in his first three seasons, Rose has played in just half of the Bulls' games, on average, in his last four. It's easy to forget that he's only 27, because a lot of his once-remarkable explosiveness — Rose sometimes looked like circa-today Russell Westbrook when he was in his early 20s — is gone, and his numbers have nose-dived as well. He will also be a free agent after this season. (As a side note, it's weird, in retrospect, to think that many NBA fans were quite earnestly uttering sentences like "I can't wait to watch Rajon Rondo and Derrick Rose battle it out for the next decade" in 2010.)
The Knicks did give up their starting center and point guard in Lopez and Calderón, but likely figured that Rose, injuries and all, represents such a profound upgrade over the limited Calderon (the 28th-best point guard in the league, out of 30, according to one list that had Rose at 12) that it was worth it, and that if things work out they will be able to entice him to stay in New York. We'll know soon enough.