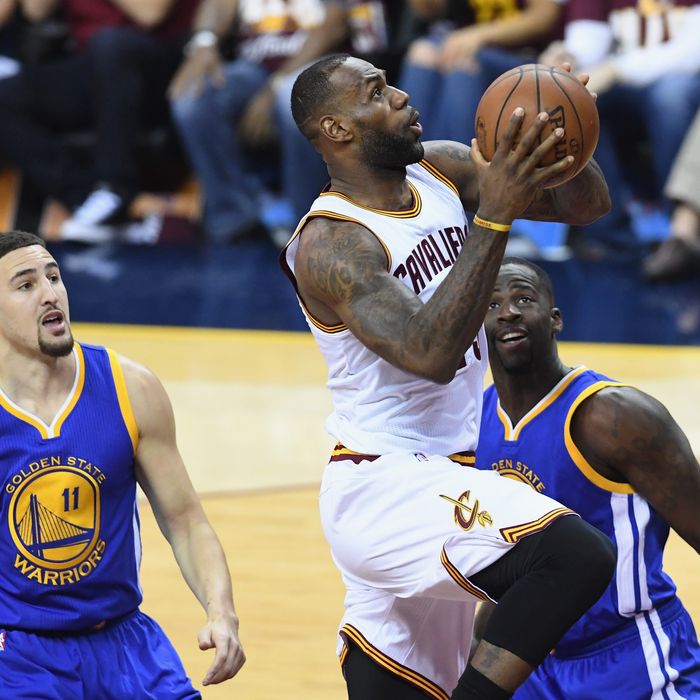 Photo: Jason Miller/2016 Getty Images
Game three could have been it for the Cleveland Cavaliers. Down 2–0 to the Golden State Warriors in the NBA Finals, and playing without Kevin Love because of concussion-related precautions, had the Cavs slipped to a 0–3 hole against the defending champs, the series would have been over, for all intents and purposes. Tonight was an elimination game without technically being an elimination game. 
Not only did the Cavaliers come through, but they blew the roof off Quicken Loans Arena, wrecking the Warriors 120–90 (the second consecutive game decided by 30 points or more in a series that has been depressingly lacking so far).
The Cavaliers dominated from the jump. Kyrie Irving, having played terribly in the first two games, got going early, hitting just about every shot he took, and ended up with 16 in the quarter — matching the Warriors' total as a team. The Cavs' defense was suddenly stout, forcing Golden State into uncharacteristically tough looks. Making things worse, Klay Thompson went out of the game with a left-thigh contusion shortly before the end of the quarter. At the end of the first, the Cavs had built a commanding-against-just-about-any-other-team 33–16 lead.
The Warriors flurried a bit early in the second quarter, quickly cutting the lead to 10 just two and a half minutes into the second quarter, making it 33–23. It stayed in that vicinity for most of the quarter. Thompson returned from the locker room and very much kept Golden State in the game: He crossed up Tristan Thompson beautifully, then poured in nine more, including a sweet and-one, a Klayishly smooth pull-up three-pointer, and a really tough contested layup. Irving cooled significantly toward the end of the half, missing several shots in a row, and Stephen Curry was invisible, scoring-wise. At the half, it was 51–43, Cavaliers.
At halftime, some viewers thought that the Cavs hadn't built up enough of a lead on the offensively explosive Golden State warriors, that they'd spent all of their emotional energy in a kinetic first half and might be in trouble once the Warriors found their stroke in the second half, as they have a tendency to do.
Okay, I'm talking about me — I thought that. I was wrong: Cleveland was able to gradually build its lead in the third behind more stout defense and, finally, some outside shooting from J.R. Smith, who had ten points in the quarter. Halfway through the quarter, a pull-up trey from LeBron James put the Cavaliers up 22 points, and the Warriors didn't get much closer the rest of the game. James was his magnificent best playoff self, with 32 points, 11 rebounds, and six assists.
Other than James being fully James, though, how was tonight different from the other Finals nights? Well, besides the hard-to-quantify effect of a talented team returning home with their back against the wall and an emotional crowd, the most obvious differences were Irving and Smith. Irving, who spent so much time dribbling, dribbling, dribbling into nothing-offense the first two games of the series, was sharp, slicing to the hole aggressively all night, his jump shot on, too, netting him 30 points on 12–25 shooting — a monumental improvement over his sad performances in games one and two. And Smith, a supremely important X factor for the Cavs who had scored 8 total points in the first two games of the series, benefited from his more aggressive approach, hitting five of his ten three-pointers for 20 points. When he is jacking threes and those threes are going in, everything is much, much easier for the Cavs offensively. There's less of a burden on James and (to a lesser extent because he's shouldering so much less) Irving.
A key source of debate for tomorrow's sports-talk chatter will have to do with the fact that the Cavs played a lot better without Love. Love is — let's phrase this mega-Über-diplomatically — arguably not the single most talented defensive player in the National Basketball League, and it's probably not an accident that with him out of the lineup, the Cavs had markedly more success staying with Curry, Thompson, and all of the Warriors' other talented offensive players. Nor, more broadly, is it an accident that the Cavs have had a lot of success lately with lineups in which backup Channing Frye plays key minutes instead of Love. None of this is necessarily a great sign for Love's long-term future with the team.
The big question for the Warriors going into game four on Friday night, meanwhile, is what they can do to fully spring the Splash Brothers, who have been far from their splashiest selves this series. Tonight, Curry scored 17 and Thompson 10, and except for brief flashes like Thompson's second quarter, neither has fully been himself all series.
Golden State is still in really good shape, of course: If they win Friday night, the series is basically over (neither Cleveland nor anyone else is going to win three straight games against the Warriors, especially when two of them are at the Oracle), and even if they don't they're still just two home wins away from their second consecutive title. The Cavaliers bought themselves a bit of breathing room, but they'll still be facing a must-win on Friday. But for one night, at least, they showed they can play with a team that had tormented them twice in a row.