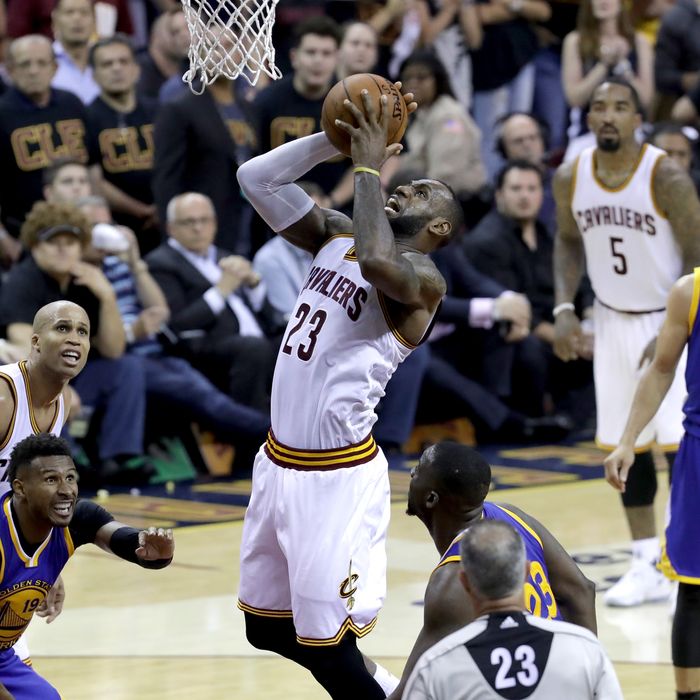 Photo: Ronald Martinez/Getty Images
When tonight's emotionally charged Game 6 of the NBA Finals was over — after the Cleveland Cavaliers, spurred by LeBron James's 41 points and effervescent brilliance, had dominated the Golden State Warriors from start to finish; after Stephen Curry had fouled out and gotten a technical and hurled a mouthguard, accidentally hitting a fan; after James had lofted up, by my count, 6 trillion perfect alley-oops to Tristan Thompson — the Cavs had a 115-101 win, and the country had what it wanted, and what seemed so unlikely just a week or so ago: a Game 7. The 2016 Finals, lackluster for so long, have zigged and zagged and dallied and stumbled into the best possible outcome for anyone without a rooting interest.
Foul trouble played a large role in this game early on: Kevin Love picked up his second on a very dumb foul on Draymond Green just 90 seconds into the game. (If Love was trying to counter the increasingly loud whispers that maybe he doesn't have a role to play in Cleveland's near future, this wasn't the way to do it.) Golden State had foul issues of its own — Stephen Curry picked up his second halfway through the quarter.
But the sheer dominance of Cleveland was the major story line in the first quarter. James seized control early — nine points on 4-5 shooting in the first 12 minutes. Tristan Thompson also asserted himself immediately; he had nine rebounds and seven points in the first, four of those points, thanks to his endless hustle, as the recipient of nifty assists from James for slam dunks (a theme that would continue for the rest of the night). Golden State was completely impotent on offense, needing a last-second Andre Iguodala jumper just to break double digits: The first quarter ended 31-11 — not a typo — marking the Warriors' lowest single-quarter output all year, in their biggest game of the year.
The Warriors were able to chip away at the lead a little bit in the second, but not by much — the Cavs still had a 59-43 lead at halftime, and it was clear that all their important cogs had showed up, except for, as is apparently customary, Kevin Love (a point and two boards in his three foul-restricted minutes in the first half): Lebron had 14 points and six dimes, Thompson had 11 points and ten rebounds, and Kyrie Irving continued his torrid scoring of late with a pretty easy-seeming 20 (though he'd cool off in the second). Thompson was one of the most surprising stories: preventing him from dominating on the glass was supposed to be one of the major benefits of the Warriors getting Draymond Green, their defensive stalwart, back from the suspension he served in Game 5.
In the third, Golden State appeared poised to make one of those knock-you-on-your-butts scoring flurries that have devastated opponents all year, but which have been weirdly absent this series. Halfway through the quarter, they embarked on a 9-0 run that cut the lead to 46-38. But facing the prospect of a devastating elimination at home, the Cavaliers stood firm, led by James all the way. He and Thompson continued their telepathy — James fed him for a beautiful alley-oop just when the Warriors seemed to be threatening the most. After the Warriors cut it to eight, the Cavs responded with an 8-0 run.
The fourth quarter was much the same: Golden State seemed to pull back within reach, only to be rudely swatted away by LeBron (sometimes literally, in the case of their shot attempts — King James had three blocks). An important sequence came with about 9:30 left, when Golden State had a chance to get it to single digits, when Curry found Green on a full-court pass. But James raced back and didn't fall for Green's shot fake, blocking his layup attempt a moment later. During the next Warriors possession, Curry hit a three to cut it to eight, then missed a tough layup that could have cut it to six shortly thereafter. A James put-back stretched the lead back to ten, 86-76 — he scored 20 straight for the Cavs during an 11-minute span stretching from the third to the fourth quarters, helping keep things out of reach.
Curry's mouthguard-tossing incident, which will undoubtedly be the subject of countless hi-larious memes in the days to come, occurred in the game's waning minutes, when Curry picked up what he thought was an unfair sixth foul. After the toss, he quickly apologized to the fan, and it's unlikely his absence mattered — it was 100-87 with 4:22 left. While this has been a manageable deficit for the Warriors all season, they just weren't the Warriors tonight, and up to that point, the Cavs had shown no signs of cracking.
James scored 41 points for his second straight Finals game — not the sort of thing normal human beings, even those who play in the NBA, are supposed to be able to do. He added in eight rebounds, 11 assists, and four steals to go with his aforementioned trio of blocks in one of the best games of a career that has been stuffed with best games. He was 3-6 from behind the arc but did most of his damage further in. He made Draymond Green not matter, which is an almost impossible thing to do. The Splash brothers didn't really matter, either. For the second game in a row they had a perfectly solid scoring outing — Curry with 30, Klay Thompson with 25, though neither shot all that efficiently — that wasn't just overshadowed but supernova-ed by what the Cavs, and particularly James, were able to pull off (this time James's right-hand man was Thompson, who bullied his way to 15 points and 16 rebounds without missing any of his six shots).
Game 7 could be spectacular. Any Game 7 has high stakes, of course, but in this case, those stakes are particularly towering — between James's "legacy" as someone who has lost more Finals series than he has won, the city of Cleveland's desperation for its first championship trophy in decades, and the fact that Golden State was "supposed" to repeat after its record-breaking 73-game season … it's going to be intense. What a crazy, whiplash-inducing series. I'm glad it came around, though.