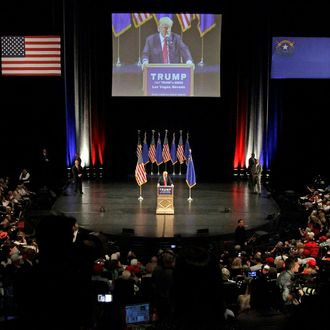 Donald Trump's rally at the Treasure Island Casino.
Photo: John Gurzinski/AFP/Getty Images
A man drove from San Bernardino to Las Vegas last weekend to murder Donald Trump. Or at least that's what 19-year-old Michael Steven Sandford told police after he was arrested at the Treasure Island Casino on Saturday, the Associated Press reports. According to a criminal complaint obtained by the news wire, Sandford told officers he'd been planning the assassination for more than a year, and had spent the day before taking target practice with a 9-mm Glock pistol at the Battlefield Vegas shooting range. Sandford had a U.K. driver's license on him at the time of his arrest, and told federal authorities that he'd been in the U.S. about 18 months.
This (apparent) assassination attempt is the latest eruption of violence in a campaign cycle that has already seen its fair share. Considering the tenor of the general-election debate — in which both candidates are effectively arguing that the other's election would be a forerunner of apocalypse — it seems unlikely that peace will reign from here to November.