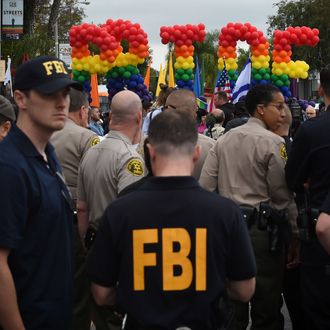 The Los Angeles Pride parade saw a heavy police presence.
Photo: Mark Ralston/AFP/Getty Images
Just a few hours after a gunman opened fire in a gay club in Orlando, Florida, killing 50 and wounding 53, a 20-year-old man carrying three assault rifles, high-capacity ammunition, and a bucket of explosive chemicals was arrested in Los Angeles. According to the Los Angeles Times, James Wesley Howell was apprehended when police received a call around 5 a.m. about a late-night prowler knocking on windows and doors. When they responded to the call they found Howell sitting in a car that contained his cache of weapons. According to police, Howell said he was on his way to Los Angeles's Pride parade.
Santa Monica police chief Jacqueline Seabrooks initially said via Twitter that Howell intended "to harm Gay Pride event," but she later backpedaled on the phrasing, saying, "Tweet should have read: Howell was going to event. He's not being held on weapons and explosive charges." In other words, there's no concrete evidence yet that Howell's plan to attend the parade and his car full of weapons and explosives are related.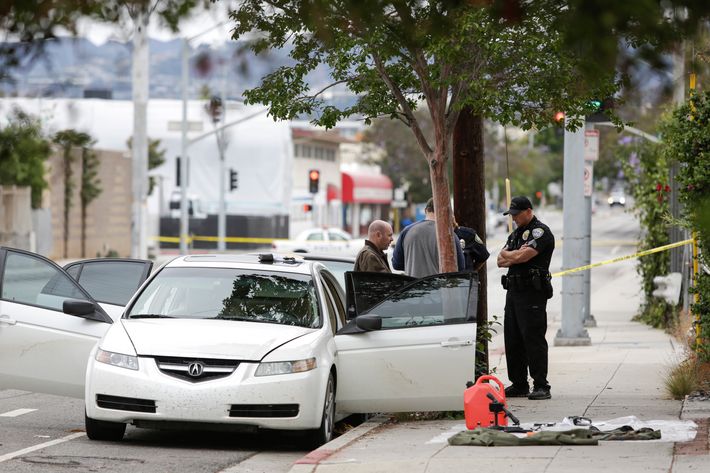 Seabrooks added that Howell has no known connection to the gunman in Florida.
A friend of Howell's, Joseph Greeson, told the Times Howell "didn't harbor any ill will toward gays and lesbians," is in fact bisexual, and had been missing from his Indiana home for days. 
Greeson added that Howell is "known to have a gun collection," a claim backed by his criminal history: In October 2015, Howell was charged with intimidation with a deadly weapon for pointing a handgun at his neighbors during an argument.
He has a history of weapons-related charges including a misdemeanor intimidation charge for pointing a gun at someone, and an "intimidation with a deadly weapon" charge for pointing another gun at someone else. "James is going to get someone hurt," a witness said at the time. "He needs to stop pointing guns at people."
Howell is scheduled to appear in court on Tuesday.