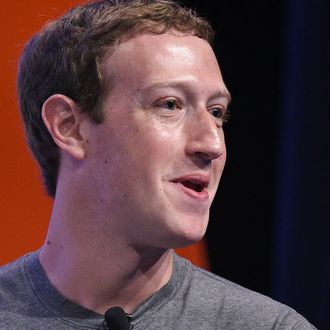 In April, Facebook founder Mark Zuckerberg told a crowd of developers that he heard "fearful voices calling for building walls." At the time it was widely assumed he was talking about Republican presidential candidate Donald Trump. But perhaps he was just hearing the voices echoing across his enormous Hawaiian estate?
Back in 2014, the Facebook CEO purchased 700 acres of land on the island of Kauai for a cool $100 million. (House not included.) Now, he's constructing a six-foot-high stone wall around the Hawaiian property. And his neighbors aren't exactly thrilled with the giant pile of organized rocks that now stare back at them from where the ocean used to be.
"The feeling of it is really oppressive. It's immense," wall hater and Kilauea resident Gy Hall told The Garden Island. "It's really sad that somebody would come in, and buy a huge piece of land and the first thing they do is cut off this view that's been available and appreciative by the community here for years." Another resident explained the new wall cuts off the sea breeze, thereby increasing the temperature for anybody on the other side of it.
A representative from Zuckerberg's camp told Gizmodo that the real purpose of the wall is to eliminate noise from the nearby highway. (The same one people used to enjoy driving down before the nice ocean view was obstructed by the aforementioned wall.)
Rock walls like this one being built along the roadway are routinely used as sound barriers to reduce highway and road noise, and that is its primary purpose. The sound barrier follows all regulated rules and regulations by the county and our entire team remains committed to ensuring that any development respects the local landscape and environment and is considerate of

 

neighbors.
Zuck's not the first Facebook bigwig to annoy others with major landscaping projects: In 2013, early investor Sean Parker got in trouble with the state of California for staging an elaborate steampunk wedding in Big Sur that allegedly wreaked havoc on the redwood forest. But it's hard to hear the complaints of your neighbors when you've got a big wall surrounding you!