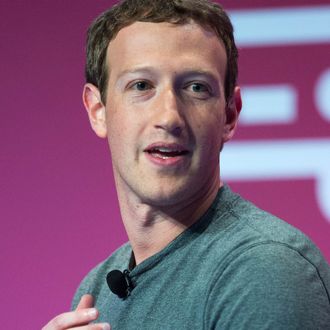 Photo: David Ramos/Getty Images
In case the recent hacks of Myspace, Tumblr, LinkedIn, and, um, this North Korean Facebook clone, weren't enough to convince you to up your password game, let Mark Zuckerberg be a cautionary tale.
Over the weekend, Zuck's Pinterest and Twitter accounts were hacked by the OurMine Team, a group that also is taking credit for a LinkedIn hack that compromised several million people back in May, Gizmodo reports. The group was allegedly able to gain access to his accounts using a password mined from the LinkedIn hack. Which mean, yes, the founder of one of the world's largest social media platforms likely got busted for using the same password across multiple websites. (Mom, if you're reading this, that is a bad idea. Don't be like Zuck.)
In a now-deleted tweet from his Twitter account, the hackers claimed that Zuckerberg's password was "dadada," though we're giving Zuckerberg the benefit of the doubt on that one. OurMine also claims they succeeded in hacking Zuckerberg's Instagram account, but there does not appear to be proof of such a breach and Facebook is denying it happened, Gizmodo also reports. (In case you've forgotten, Facebook owns Instagram these days.)
Zuckerberg wasn't the only target this weekend. Several other high-profile Twitter accounts were temporarily compromised, the Verge reports, including Tenacious D. The group's account was hacked by someone with a charming send of humor, who decided to trick followers into believing actor Jack Black had died. (Jack Black, to our knowledge, is alive and well. Though he might want to change his passwords.)
As of Monday morning, things appear to have returned to normal on Zuck's hacked accounts. Which means he's back to never tweeting (he hasn't since 2012); meanwhile, all three of his Pinterest boards have been restored to their former glory.