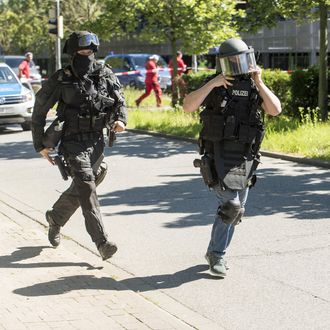 Police rush to the movie theater in Viernheim.
Photo: Alexander Scheuber/Getty Images
A masked man who stormed into a German movie theater Thursday afternoon and opened fire has been shot and killed in a police raid. Authorities say between 20 and 50 people may have been hurt from tear gas used in the attempt to take out the attacker. None of the injuries are serious, and no one was wounded by the gunman. One state official said that right now it's unclear if the man was armed with a real gun — it may have been a gas or stun gun.
The chaos unfurled around 3 p.m. in the Kinopolis cinema complex in Viernheim, a small town outside of Frankfurt in western Germany. The masked man reportedly tried to barricade himself in the theater with hostages. The man was taken out by police after a standoff, but no hostages were shot or hurt in the police operation.
The identity and motive of the gunman are unknown, though witness reports say the man appeared "confused."
This is a breaking-news post and will be updated as more information becomes available.