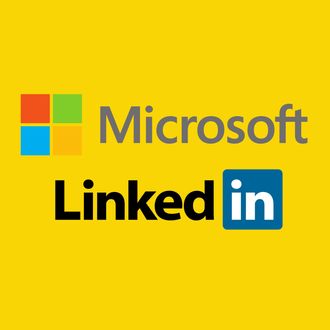 Microsoft just announced that it is purchasing LinkedIn for $196 per share in an all-cash transaction valued at $26.2 billion. Put in perspective, that's exactly as many emails as you've received from LinkedIn over the last six years.
The deal, which is expected to close by the end of this calendar year, according to a statement from Microsoft, seems insane if you understand LinkedIn only as the company that emails you about high-school classmates "looking to join your network." But LinkedIn has over 400 million users internationally, and an enormous, business-oriented social graph is worth a lot of money to a company like Microsoft: an enterprise social network for an enterprise software giant. (By "social network," we mean, as always, data; adding LinkedIn to the family offers Microsoft a huge amount of data about its customers — both individuals and businesses.) And, of course, LinkedIn makes money, thanks to its paid recruitment services and premium accounts, and it has basically no competition.
In an email to his staff today — published, of course, on LinkedIn — LinkedIn CEO Jeff Weiner explained what life at the company will look like after acquisition. He says the two companies will still operate independently and much of day-to-day operations will remain the same. "Imagine a world where we're no longer looking up at Tech Titans such as Apple, Google, Microsoft, Amazon, and Facebook, and wondering what it would be like to operate at their extraordinary scale — because we're one of them." Lofty stuff.
Over at Microsoft, CEO Satya Nadella also let his people know that the enterprise software company would be purchasing the enterprise social network. Or, as he put it, "this deal brings together the world's leading professional cloud with the world's leading professional network." Nadella also has some, let's say, um, lofty goals for the merger: "Together we can accelerate the growth of LinkedIn, as well as Microsoft Office 365 and Dynamics as we seek to empower every person and organization on the planet." I, for one, can't wait to be empowered!
"Finally, if you're not on LinkedIn, join up now and start using," Nadella said at the end of his email. Which seems like a great growth strategy for LinkedIn.