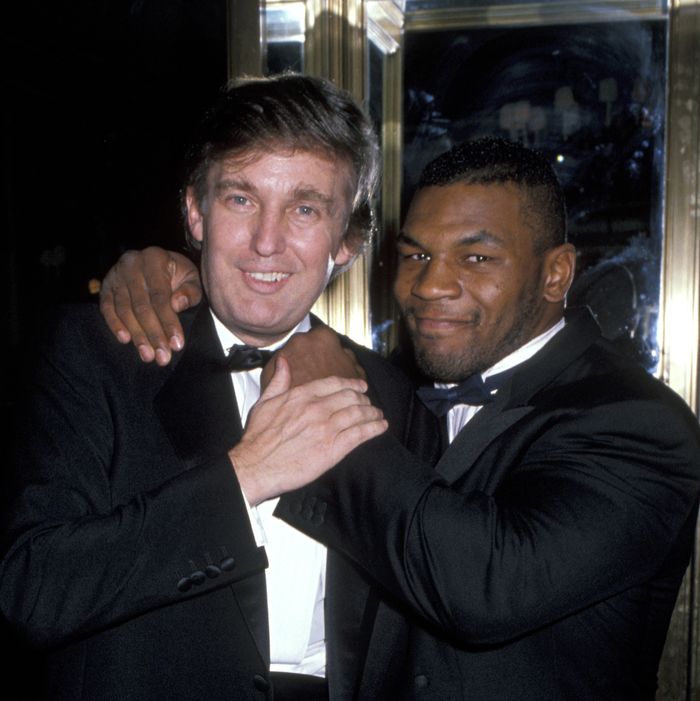 Tyson and Trump in 1989.
Photo: Ron Galella/WireImage
As if anyone needed more reasons to tune in to the Republican National Convention, last month, Politico reported that Donald Trump "is dealing directly in the details of his coronation as Republican nominee to maximize the drama and spectacle of the party's four-night convention." So, imagine our disappointment when the RNC unveiled this model of the stage being constructed inside Cleveland's Quicken Loans Arena on Tuesday:
Is it absurd that a presidential candidate will accept his party's nomination while standing on a set apparently inspired by the trophy given to Super Bowl winners? Sure. But clearly Trump had no hand in this, as it does not look like a cross between Versailles and something an 8-year-old would design if given a million dollars. Indeed, Republican National Convention CEO Jeff Larson could not tell Politico whether Trump had weighed in on it at all.
But fear not, dear reader. On Thursday night, we got another bit of news that suggests the GOP convention will be just as ridiculous and frightening as you imagined. Bloomberg Politics reports:
Donald Trump's campaign aides are lining up a slate of iconic sports figures to appear at the national convention in Cleveland next month — including former undisputed world heavyweight champion Mike Tyson, legendary Chicago Bears coach Mike Ditka, former Indiana University basketball coach Bobby Knight and NASCAR chief Brian France …
Tyson endorsed Trump months ago, prompting the candidate to brag, "You know, all the tough guys endorse me. I like that." Ted Cruz and Carly Fiorina then attacked their opponent for reveling in the support of a rapist. Tyson served three years of a six-year sentence for raping an 18-year-old beauty pageant contestant in 1991. Trump has repeatedly defended Tyson over the years, telling New York in a 1992 profile that the victim "wanted it real bad."
Republican politicians willing to speak at the four-day Trumpfest are hard to come by — not that the candidate wants them on his stage. At a rally earlier this month, Trump said he wanted to have a "winner's evening" featuring sports stars instead. "We're going to do it a little different, if it's okay," he told a crowd of supporters. "I'm thinking about getting some of the great sports people who like me a lot." He noted that he has the support of Tom Brady and Ben Roethlisberger, but so far, the star quarterbacks do not appear to be among the "winners" speaking for Trump — and even Tyson isn't a sure thing. Bloomberg said none of the sports stars' roles had been finalized, and Trump denied the report on Tuesday night:
Still, Paul Ryan should probably start preparing himself for the possibility that he'll be the lead-in for a guy who bit another guy's ear off.