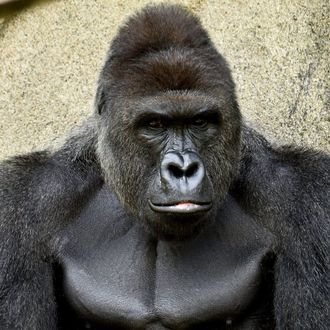 Harambe
Photo: Cincinnati Zoo & Botanical Garden/Facebook
Prosecutors have decided not to charge the mom of the toddler who tumbled into the moat of a gorilla enclosure at the Cincinnati Zoo over Memorial Day weekend. The 3-year-old boy slipped past the barriers and fell about 15 feet into shallow water. The exhibit's 400-pound male gorilla, Harambe, rushed over to the boy, at one point dragging the kid through the water. Zoo officials decided to shoot the gorilla to protect the boy, killing the 17-year-old animal.
The Hamilton County prosecutor Joe Deters said the boy slipped away, and the incident unfolded so rapidly, there was nothing the mom, Michelle Gregg, could possibly do to prevent it. "By all accounts … this mother did not act in any way where she presented this child to some harm," Deters said. "If anyone doesn't believe a 3-year-old can scamper off very quickly – they've never had kids." Witnesses had apparently overheard the boy telling his mom he wanted to go into the habitat, to which she repeatedly replied that he could not.
The prosecutor expressed regret over the "beloved animal," but said there really was no evidence that Gregg, who had three other children with her, had endangered the child. The case had turned everyone into an self-anointed expert on zoos, gorillas, and parenting as people questioned the zoo's decision to shoot Harambe, and the mother's failure to keep track of her child. 
The prosecutors' decision comes the day before the gorilla exhibit is set to reopen on Tuesday. The Cincinnati Zoo has raised the barriers six inches "with solid wood beams on top and at the bottom, plus knotted rope netting at the bottom," reports ABC News. Until this incident, no person had ever fallen into the gorilla enclosure since the Gorilla World exhibit opened 38 years ago. The enclosure also passed recent inspections, but the USDA is going to investigate the zoo's operations and safety protocols.