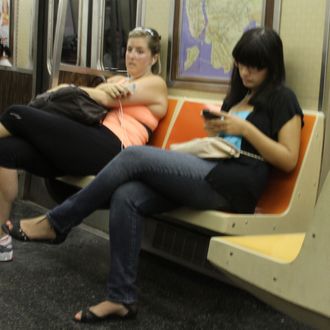 Photo: Waring Abbott/Getty Images
The MTA may soon kill the "sorry, was on the subway" excuse because the agency is reportedly experimenting with Wi-Fi inside subway cars. NY1 revealed that the MTA is secretly testing wireless service on four cars along the E train. The agency only notified subway employees, so you can find out if you're riding one of these Wi-Fi-equipped lines by queuing up your mom on FaceTime and giving it a shot.
The MTA told NY1 that the test is in its "early stages," and the outlet's reporters said the signal wasn't "all there" on their ride. The MTA wants to equip all underground subway stations and platforms with wireless and cell-phone service before they start tackling the trains — a goal the agency plans to accomplish by the end of this year. This particular Wi-Fi test will only last until June 7. After that, there are these things called books.