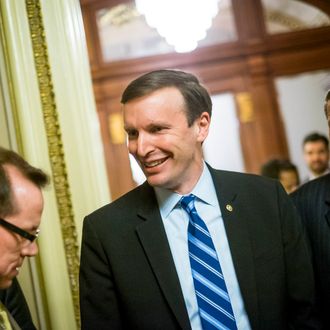 Chris Murphy ceded the floor after a 15-hour filibuster.
Photo: Pete Marovich/2016 Getty Images
Senate Democrats may have enough votes to pass a measure that would allow the attorney general to prevent people suspected of involvement in terrorism from purchasing firearms, Connecticut senator Chris Murphy said on Thursday.
Speaking on CNN's The Situation Room, Murphy, who led a 15-hour filibuster on the Senate floor on Wednesday to force a debate on gun control, said the measure, which is technically an amendment to an appropriations bill, may have enough bipartisan support to overcome a potential filibuster itself.
"We may have 60 votes to pass the measure that makes sure that people who are on the terror watch list cannot buy guns," he said. "That is a non-controversial issue in the American public."
According to the Washington Post, the amendment, proposed by California Democrat Dianne Feinstein, would let the attorney general deny the sale of a gun to anyone for whom there is a "reasonable suspicion" of involvement in or support for terrorist activity. It would also alert the attorney general every time a person who has been the subject of a federal terrorism investigation within the past five years attempts to buy a gun.
Contrary to what has been widely reported, the measure would not bar those on the existing terrorism watch list or the no-fly list from buying guns, but it does appear to give the attorney general broad discretion to block gun sales to people who are or have been on those lists.
Citizens denied the sale of a gun under the measure can appeal through the same process available to those already prohibited from buying guns by the National Instant Criminal Background Check System (NICS), such as felons, "mental defectives," and undocumented immigrants. According to the Post, those denied an appeal seem to have no further recourse except to sue the attorney general.
Feinstein's amendment is one of four gun-related proposals on which the Senate is scheduled to vote Monday, according to the Hill; of the other three, two are from Republicans and one is from a Democrat. A competing amendment proposed by Texas Republican John Cornyn would only give the attorney general the authority to delay a gun sale to suspected terrorists (or those who have come under suspicion within the past five years) for 72 hours while seeking a court order to prevent the sale outright.
Iowa Republican Chuck Grassley has also submitted a measure that would reauthorize and provide funding for the NICS, push for improved federal record sharing, and incentivize the sharing of mental-health records.
On the Democratic side, Murphy along with his Connecticut colleague Richard Blumenthal, New York's Chuck Schumer, and New Jersey's Cory Booker have proposed an amendment that would require a background check for nearly all gun sales, closing a loophole that excludes private sales from the requirement.
In Thursday's CNN appearance, Murphy was less sanguine about that measure, saying he wasn't sure enough Republicans would vote for it to clear the 60-vote threshold.