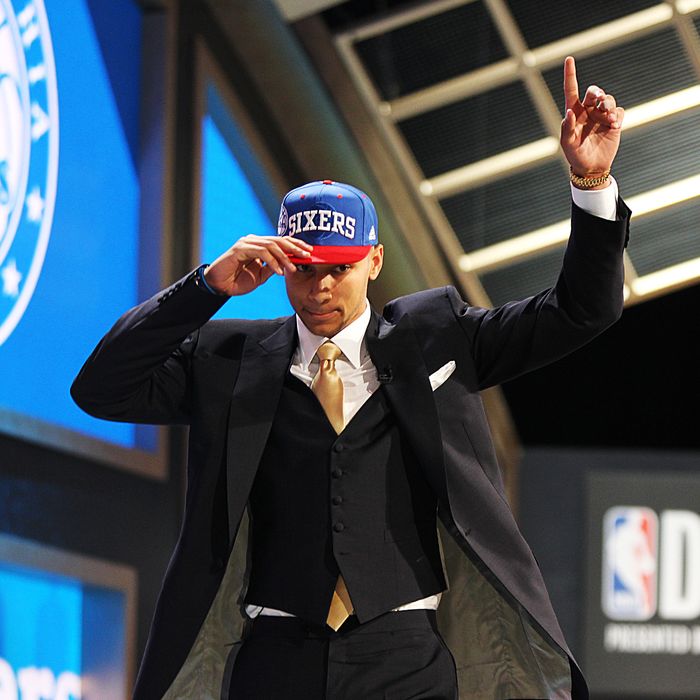 Ben Simmons, No. 1 pick heads to the Sixers.
Photo: Chris Marion/NBAE/Getty Images
The NBA season ended last Sunday, with the Cleveland Cavaliers dramatically besting the Golden State Warriors. That gave NBA fans four full days to relax before the cycle started again. The NBA draft, the unofficial beginning of the new season, took place Thursday night in Barclays Center.
Much like a Super Bowl halftime show, the draft is a spectacle made for television, but it's still a sight to behold in person. People travel from all over to watch the draft. For me, it was a $14 cab ride from my house. Here's what happened.
6:15 p.m. It's the draft. I should get a haircut. And put on a blazer. Maybe even a suit?
6:45 p.m. There's no time to get a haircut. You know what? I just need a little trim. I've got this. I can do this myself.
6:47 p.m. Oh God, what have I done?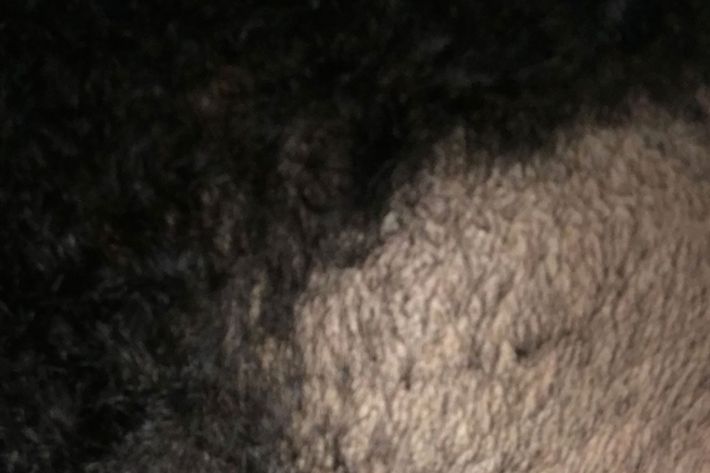 New addition to my outfit: a hat.
7:22 p.m. You never really remember how hideous Barclays Center is, from any angle, until it's right in front of you.
7:26 p.m. Just waited at an elevator for four minutes, and then the arena employee realized she hadn't hit the down button. This is going to be a fun night.
7:28 p.m. I got here with 30 minutes to spare. And they gave us this $20 voucher for food, this is— wait, why is Adam Silver talking right now?
7:30 p.m. Interesting. The draft apparently is starting right now. Probably should have looked that up. I am very average at my job.
7:34 p.m. The Sixers are on the clock and are about to draft Ben Simmons, who is one of the six people I could probably pick out of a lineup that will get drafted today. I'm not one to ever root for another team, but I'm really happy for Philly. Just kidding. I'm jealous, and I wish them the worst.
7:37 p.m. The No. 1 draft pick just walked toward me, and I faked reading something on my phone so I could take a picture of him.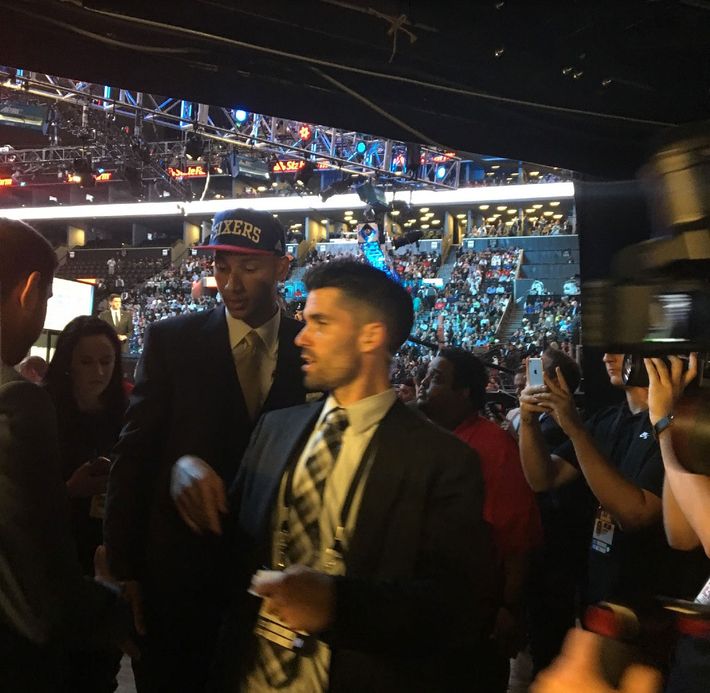 I'm not proud of that, but I kind of nailed it.
7:51 p.m. The fandom within the arena is so interesting and specific. You've got small contingencies from seemingly every fanbase, but also just people who love basketball and will react to every pick, no matter if it's their team or not. It's equal parts "Why is anyone here?" and "I love the fact people are here."
7:52 p.m. Just Milly Rocked with a little boy in a tunnel. He was so much better than me.
8:02 p.m. One other thing about the crowd? They very soccer hooliganish. As in they will let anything fly out of their mouths, and it's often not cute.
8:11 p.m. Just saw John Calipari in the bathroom. Clearly he'd been having fun.
8:15 p.m. All of these dudes getting drafted are so tall and 19.
8:24 p.m. Only an hour in and I was already beginning to fade, but then everything changed.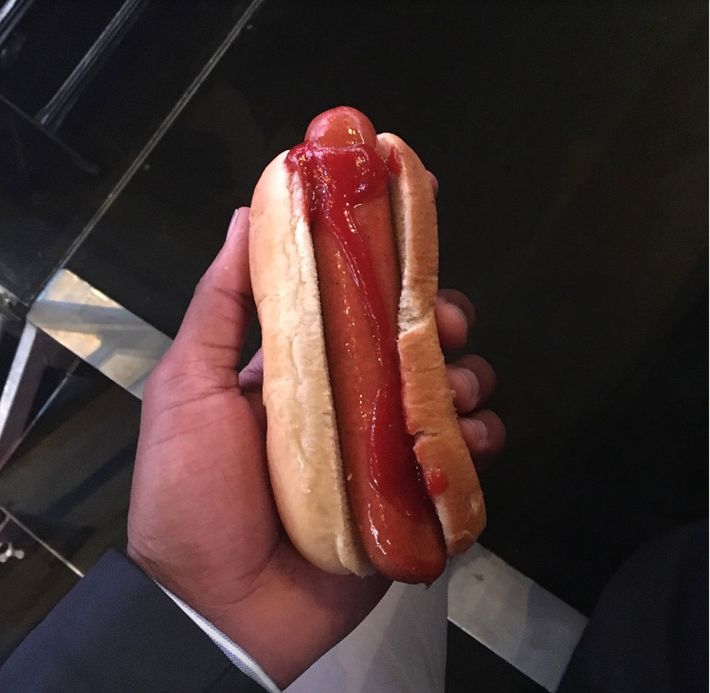 Life comes at you fast, and just now, someone blessed me with a hot dog. Just a beautiful time to be alive. And then right before I left, a Whatchamacallit. My guy had a stash of candy bars under the desk, like he's T.I. in the Walgreens parking lot. What a legend.
8:35 p.m. The handful of second-year players in attendance remind me of the confidence of a college sophomore during freshman orientation. You're not trying too hard, because you already know the ropes. Your suit is less flashy because you finally met someone who let you know shiny doesn't equal wealth. And your level of overall aloofness is on 600, because now people really know who you are. Oh, and you're very much the shit in this moment, mainly because there are no seniors around.
8:38 p.m. Just got a big text about my Hawks. I think something might happen. Big text, as in intel. Big text, as in "I suddenly have a source and if I was a snitch/good journalist I'd tell people, but because I'm not, I'm just going to keep it to myself and then celebrate in a few minutes."
8:40 p.m. I really want to tell someone, though.
8:41 p.m. Having a source is fun. Woj's life must be crazy.
8:41 p.m. Wait, do I know something Woj doesn't know?
8:42 p.m. Am I the new Woj?
8:43 p.m. Should I break my promise and tweet this out so I can be the new Woj?
8:51 p.m. This is crazy. Woj ain't got shit on me.
8:52 p.m. Oh no.
My intel was not reliable. I'm really glad I didn't say anything. Sourced life is wild.
9:26 p.m. The Celtics just drafted this guy.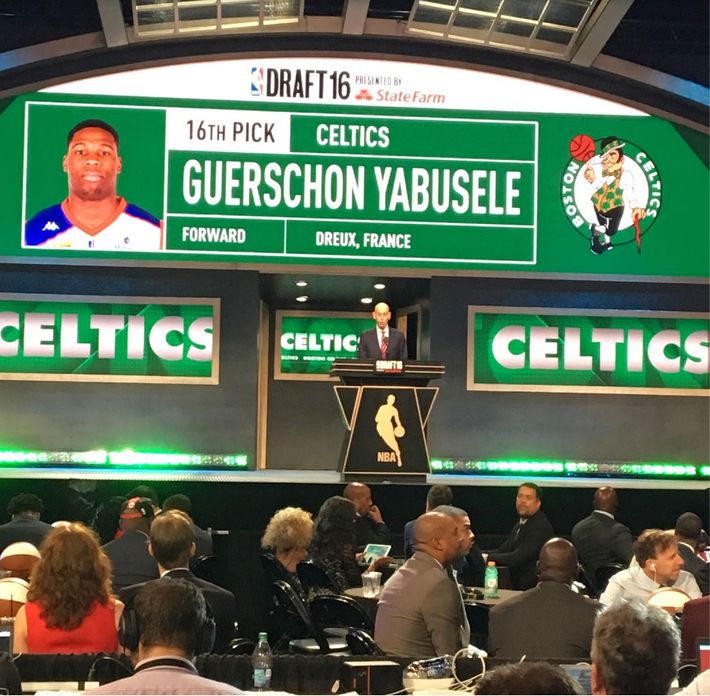 Who this guy is, I don't know, but he highlighted part of the fun of actually being at the draft. Most of the clear top picks are seated on the floor, but if you're more on the bubble, you and your family might have seats in the stands. The crowd always gets excited when someone from the stands gets picked, because they probably had to come through the main entrance, just like you. It was fun. Best of luck to Yabusele.
9:28 p.m. This is Karl-Anthony Towns.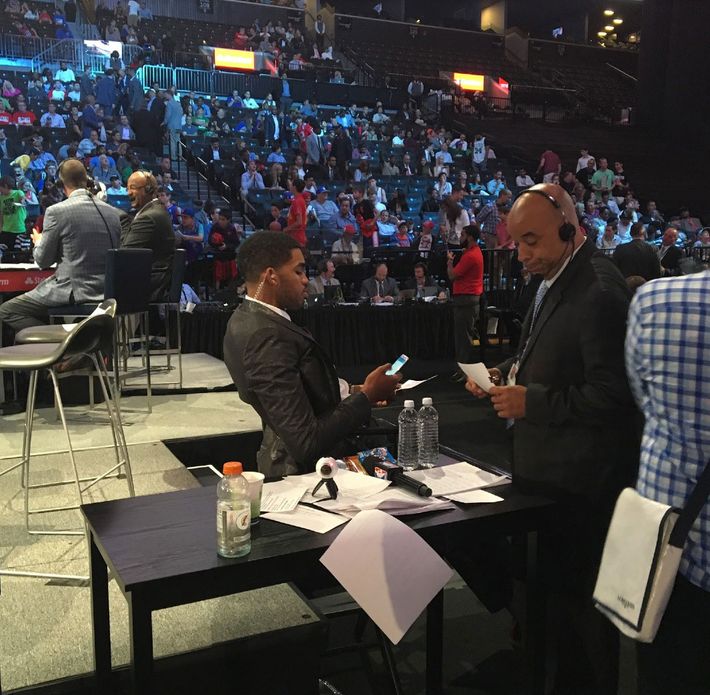 He was last season's rookie of the year. But after watching him in this new element of TV personality, it is exceptionally clear he's going to be the next Michael Strahan. He's been doing on-camera spots the entire draft, and when he's not he's been sitting in this little director's chair, relaxed as everything, already more comfortable on-air than most of his elders who have been doing it for years.
9:31 p.m. I don't know who these two guys are, but they are tall and were so happy to see each other.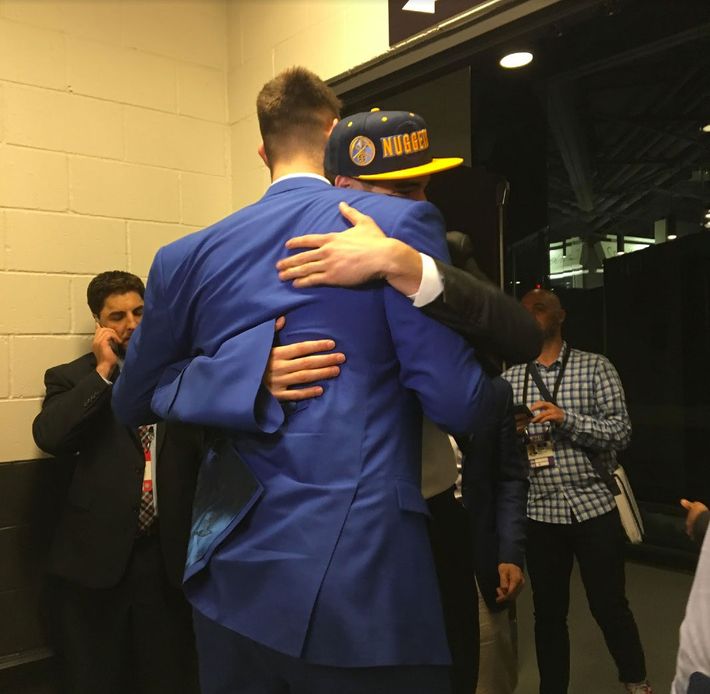 So much love in the room.
9:55 p.m. The Hawks have the 21st pick, and I am doing the thing you're not supposed to do when you have a press credential: celebrate your own team with reckless abandon.
9:56 p.m. LETS GO, AMERICA'S TEAM.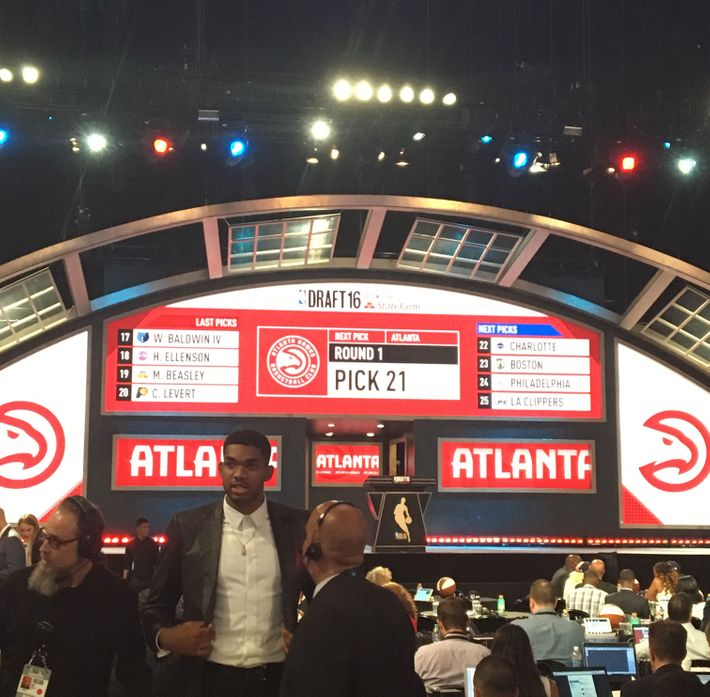 9:59 p.m. We drafted someone. And in classic Hawks fashion, he's not even here. BUT MY BRAHS ARE.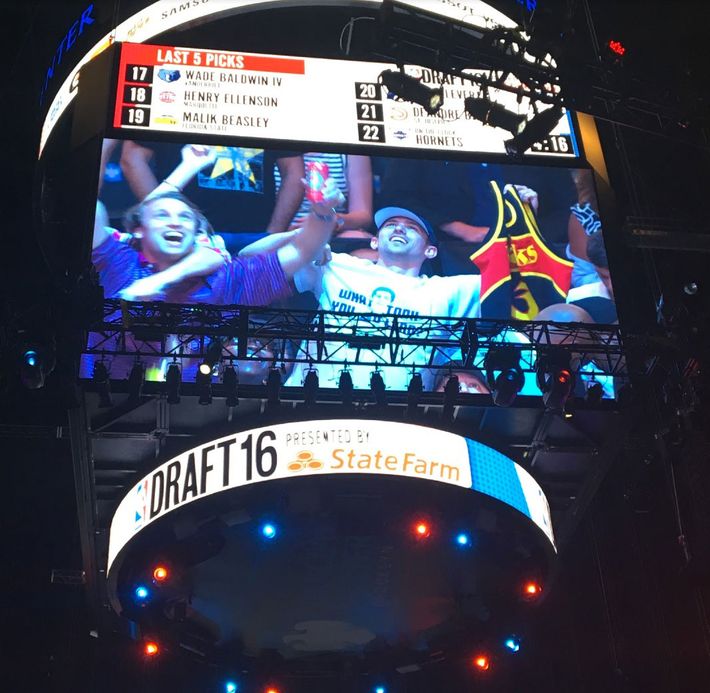 10:17 p.m. You have to love Sixers fans. They're just so sad and hopeful.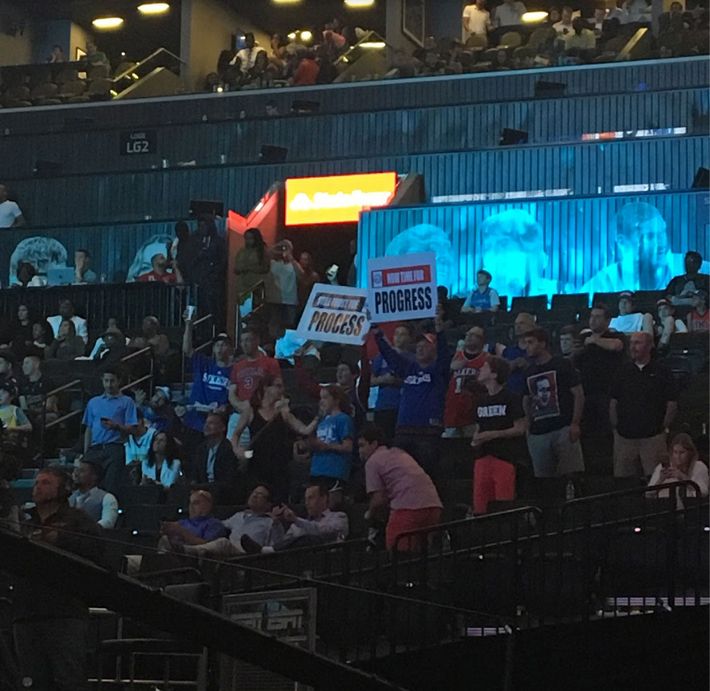 10:36 p.m. The crowd is beginning to thin out, even though there's a few first-round picks left and then the entire second round. Yeah, I'm probably not going to last much longer. I tried.
10:38 p.m. Thon Maker, a player who just got drafted, recently came under some heat about his actual age. Watching him leave the main room, he passed a crew of those guys — you know, the boys who would look NBA draftee Thon Maker in the eyes and scream, "HOW OLD ARE YOU?" I might have to go fight those dudes for Thon.
10:40 p.m. Forgot I still had the other half of my Whatchamacallit. Probably going to save for the cab.
10:55 p.m. A friend passed me her phone, to read a story about Brexit. I flipped out and then proceeded to try and talk about it with three other people over the next five minutes. No one had any idea what I was talking about. That was my official cue to leave.