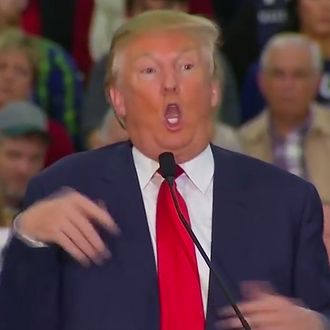 At about this stage in the 2012 race, the Priorities USA super-pac launched a series of ads that defined Mitt Romney as the heartless vulture capitalist who fired Real America's dad. This was not a particularly inventive line of attack — Romney's stiff affect, career in private equity, and austerity platform more or less demanded that his opponents brand him a class enemy.
By contrast, there's no one obvious way for Democrats to define the 2016 Republican nominee. Trump has provided opposition researchers with more material than they could weaponize in a lifetime. Do you focus on the danger his authoritarian temperament poses to American democracy and world peace? His attacks on vulnerable minority populations? His transparent lack of qualifications for the job? For now, Priorities USA has opted to begin its attack on the grounds of character, defining Trump as a misogynistic bully of disabled children.
The super-pac's first two anti-Trump ads shared some of the mogul's most sexist musings with swing-state voters. The group's new spot, "Grace," focuses on one family's reaction to the candidate's infamous mockery of a disabled reporter.
The first 20 seconds of "Grace" feature the tone and tropes of a pro-life ad. A married couple narrates the experience of finding out that their unborn daughter suffered from spina bifida.
"She was born 20 weeks later, on Valentine's Day, and she is a total blessing in our lives," Lauren Glaros, Grace's mother, says over an image of a newborn lying on a bed next to a wooden crucifix. Grace's father, Chris Glaros, then talks about the joy that animates his daughter's life, and the way that joy brings out the best in those around her.
And then the proud parents' thoughts turn to the Republican nominee.
"When I saw Donald Trump mock a disabled person, I was just shocked," said Lauren Glaros says. "The children at Grace's school all know never to mock her, and so for an adult to mock someone with a disability is just shocking."
The viewer then sees a CNN clip of Trump mocking New York Times reporter Serge Kovaleski. Last fall, Kovaleski questioned Trump's hallucinatory claim that thousands of Muslims celebrated in the streets of New Jersey on 9/11. Kovaleski also suffers from arthrogryposis, a rare condition that limits the strength and range of motion in his right arm. These two facts inspired Trump to mock Kovaleski at a campaign rally: The mogul bent his arm in an apparent approximation of the reporter's disabled appendage and flailed his body around. The candidate later claimed that he did not know of Kovaleski's disability and was only mocking him for his panicked attempts to cover for the Garden State's hordes of anti-American Muslims.
"When I saw Donald Trump mock somebody with a disability it showed me his soul," Chris Glaros then says. "I didn't like what I saw."
The spot will air from Wednesday through the Republican convention in the states of Ohio, Virginia, Florida, New Hampshire, Iowa, Colorado, and Nevada, as part of a $20 million ad campaign.
The fact that Priorities USA has decided to focus its early anti-Trump messaging on his misogyny and apparent mockery of the disabled signals the Democrats' desire to play for a landslide: For the party's base, Trump's racist statements and discriminatory policies are likely more salient than his imitation of Kovaleski's arm. But white suburban women who lean Republican may find his sexism and cruelty toward the physically infirm more discomfiting. Or so Trump's Republican rivals seem to have thought.