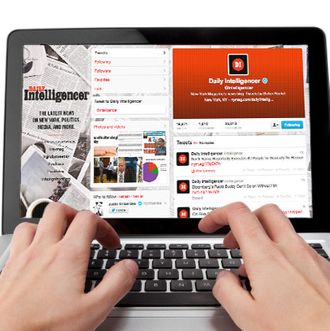 Welcome back to the New York Magazine Competition. On alternate Mondays (or, this week, Tuesday), we lay out a challenge and offer sample responses. Enter in the comments section or on Twitter with the hashtag we've provided, and the editors will select a winner. Criteria are highly subjective, but heavily retweeted and favorited posts will have an advantage. The prize is a year's subscription to New York in print or a two-year subscription to the iPad edition (winner's choice). Full rules are here.
COMPETITION NO. 72: "BREGRETS ONLY." In the spirit of the U.K.'s morning-after "Bregrets," please offer a portmanteau word that describes remorse associated with a major (or not-so-major) event or public figure.

For example:
BenghazIDidn'tMeanIt

Trumpentance

De BlasiOhShitWeScrewedUp
Enter on Twitter with the hashtag #otherregrets, or in the comments thread below, by July 7.
RESULTS OF COMPETITION NO. 71, "FAMOUS MISSED CONNECTIONS," in which you were asked to write a Craigslist near-miss-encounter posting by a recognizable figure.
HONORABLE MENTION TO:
Your red and white striped sweater, glasses and pom-pom hat were so cool but I lost you in the crowd.
—‏@ElbyNY
I was on the upper deck of the Viking Cruise Line, when your face briefly appeared among the crowd gathered to wish us Bon Voyage. Your beauty apparently caused the crew to prematurely launch our ship and you vanished from sight. The devil's in the details, but I would give my soul to have the opportunity to exchange a kiss with you.
—BENLINUS99
I was a young girl, pure as virgin snow when you came like a bolt of lightning to me that one night, since then you haven't visited, you haven't even written. Well we have a son who is exactly like you but mysteriously separate. Right now he is working with his step father; don't worry my relationship with the stepfather is chaste, but now your son wants to do your kind of work and I don't have a good feeling about it.
—lessadoabouteverything
You: Delta airlines flight 1986 departing from LGA in fifteen minutes.
Me: At JFK.
—haunt_fox
It was the day the Germans marched into Paris. Germans: wore gray. You: wore blue. We said a great many things. You said I was to do the thinking for both of us. Well, I've done a lot of it since then, and it all adds up to one thing: we get some organic juices at the Park Slope Food Coop and then maybe walk around Prospect Park if the weather's nice. Saturday, 2-ish.
—kaboomm
I should have approached you that very first day at Harvard Law. Heads turned as you sauntered by; tall, dark, handsome, with a cigarette dangling dangerously from the corner of your mouth. One of the girls whispered that you were from Kenya.
—KathleenS
You: Have a luxurious mane of hair and a hairy chest. (I love men with lots of testosterone.) Me: I am considered a Beauty; Donald Trump called me a 10 with a large, er, personality. We met at your castle. Give me a ring.
—BobKopac
At the wedding, I sat behind you and during the feast of great meat and fine wine I fell in love with you and all your dark curls. But then, that music! In an instant, all turned so very very red… and there was so much screaming and carnage. All I could hear for so long was the mournful sound of distant wolves. I took the milk of the poppy to forget that painful night but my dear, I could not forget you. Meet me quickly at The Square at the hour of the nightingale because… winter is coming.
—YettaTelebenda
Don't believe everything you hear about me. I'm no tramp, and I'd be honored to call you my lady. Do you like Italian? I know a great place for spaghetti and meatballs.
—3North
Me: I looked hot in my slit skirt, caressing my Tommy submachine gun. You were sitting in that Model T in front of the bank fondling a .38 tucked in your waistband. You stole my heart when you stole that $5,000. Let's stay together 'till the bitter end.
—Lexxman
You: Tall, Ebony beauty in white mini-sweater dress. I especially love your truckasaurus hands. Ditch that guy in the black turtleneck who was drunkenly pestering you, and let's go on a mission together
—Econpete
You: Wise Latina lugging law books on the subway heading to Yankee Stadium.  Me: Columbia U grad student headed to Harvard Law and history. Looking to add you to my Supremes dream team.
—rbison
You were a beautiful brunette lighting designer on the NASA moon landing set, and I was playing the role of Neil Armstrong. I tried to catch up with you on breaks, but I'm a method actor, so I was moving very slow and realistic around the craft services table. We never landed on the moon, but you planted a flag on my heart that day.
—MiddleCoastDan
AND THE WINNER IS:
You:  A plain wooden chair hanging out backstage.  Me: Looking for the perfect partner to join me in Tampa at my gig at the Republican Convention.  I saw you and was thunderstruck with inspiration.  The two of us will create a sensation.
—j_son