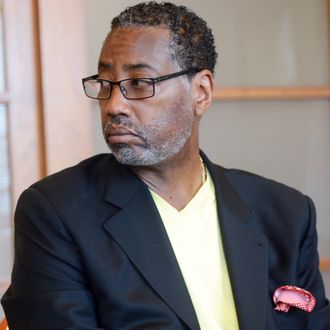 Photo: Susan Watts/NY Daily News via Getty Images
And so it begins: Norman Seabrook, the influential head of the New York City corrections' officers union was arrested Wednesday morning on federal fraud charges, reports the New York Times. Seabrook's arrest is tied to the expansive FBI corruption investigation into the NYPD and the de Blasio administration.
FBI agents busted Seabroook, who's led the 9,000-plus-member Correction Officers' Benevolent Association for 21 years, at 6 a.m. today at his Bronx home. Another defendant, hedge-fund manager Murray Huberfeld, was also arrested in connection with this case. Seabrook is accused of steering $20 million from the corrections' union's pension fund into Huberfeld's Platinum Partners firm. Huberfeld allegedly returned the favor by giving Seabrook as much as $150,000 in kickbacks, according to the New York Daily News. Both men are formally charged with honest wire fraud and conspiracy to commit honest wire fraud.
Another person — identified by sources as Jona Rechnitz, a businessman who's also at the center of one of the inquiries into de Blasio's fundraising — has already pleaded guilty to charges in connection with the case, and is cooperating with authorities in exchange for leniency. According to the criminal complaint, Rechnitz, who was cozy with Seabrook and other high-ranking NYPD officials, introduced the two men in late 2013, after Seabrook had complained that he got no financial perks from his work investing the unions' retirement funds. (It's time "Norman Seabrook got paid," he allegedly told Rechnitz.) Rechnitz acted as the go-between to deliver the alleged bribes from Huberfeld, including buying a Ferragamo bag — Seabrook's "favorite luxury goods store," according to the complaint — and stuffing it with $60,000 in cash to deliver to the union chief. 
U.S. Attorney Preet Bharara formally announced the charges Wednesday afternoon, calling it a "straightforward and explicit bribery scheme." Bharara, for his part, seems to be getting used to this, saying he's "running out of adjectives to describe" corruption in New York. And he probably just made a few people feel a little sweaty around the collar this afternoon:
So what does this have to do with one of the many investigations into de Blasio's fundraising? This probe into Seabrook's and Huberfeld's activities is separate and began about two years ago, but Rechnitz figures into both. Rechnitz had come under scrutiny for allegedly giving gifts and vacations to some NYPD officials in exchange for police escorts and other favors. Rechnitz also raised money for de Blasio's controversial (and now shuttered) nonprofit, Campaign for One New York. The FBI is reportedly investigating to see if Rechnitz also managed to buy some clout at City Hall with his contributions. Per the Times: 
The criminal complaint charging the two men strongly suggests that a witness who is cooperating with the government in the case, Jona S. Rechnitz, could also serve as an important witness in at least one of the fund-raising inquiries centered on the mayor.
While that may not sound great for City Hall, Mayor de Blasio condemned Seabrook in unequivocal terms Wednesday, calling the allegations "disgusting." "It means he took money that was meant for his workers' retirements and put it in his own pocket," he said. Seabrook has been suspended from his post, according to the mayor's office.
De Blasio separated himself from Seabrook as much as possible, saying their relationship had been "fraught," indicating the two men had clashed recently over Rikers reform initiatives. The mayor also tried to distance himself from Rechnitz. "I wish I never met the guy," de Blasio said. "If we had any inkling that this was the kind of human being he was, we never would have gone near him."
This post has been updated to reflect new details from Bharara's press conference and Mayor de Blasio's comments.