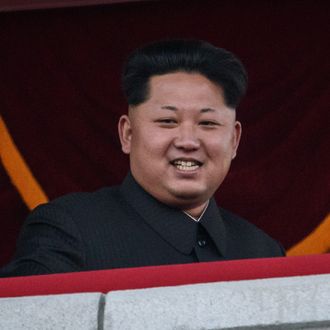 It looks like Kim Jong-un likes Trump as much as Trump likes him.
Photo: ED JONES/This content is subject to copyright.
North Korea seems to have changed its mind about Donald Trump. Last week, a North Korean envoy dismissed the Republican nominee as "nonsense" and "a kind of propaganda or advertisement," but on Tuesday, a column in DPRK Today — one of the state's mouthpieces — described him instead as a "wise politician" and a "far-sighted candidate" whose approach to diplomacy could unify the Korean peninsula, The Guardian reports.
"It turns out that Trump is not the rough-talking, screwy, ignorant candidate they say he is, but is actually a wise politician and a prescient presidential candidate," read the column, which was written by Han Yong Muk, who identifies himself as a Korean scholar based in China. Han continues, "There are many positive aspects to Trump's 'inflammatory policies.' Trump said he will not get involved in the war between the South and the North, isn't this fortunate from North Korea's perspective?"
In particular, Han praises Trump's resolution to remove American troops from South Korea and Japan unless those respective countries foot more of the bill for defense. "Yes, go away, now!" Han writes. "Who knew that the 'Yankee Go Home' slogan we shouted so enthusiastically could come true so easily like this? The day that the 'Yankee Go Home' slogan becomes reality would be the day of unification."
Meanwhile, the column criticizes Hillary Clinton — using only her first name — as "dull," or, by another translation, "thick-headed." "The president that U.S. citizens must vote for is not that dull Hillary, who claimed to adapt the Iranian model to resolve nuclear issues on the Korean Peninsula," it reads. 
And although North Korea's ambassador in Geneva seemed doubtful that his Supreme Leader would have any desire to meet with Trump, the column praises Trump's willingness to hold talks one-on-one.
Meanwhile, a less openly supportive, but perhaps even more significant editorial in Rodong Sinmun, the DPRK's official newspaper, said Trump is causing "anxiety" in South Korea due to his threats to withdraw American troops, the Associated Press reports. There you go, Donald — at least you're popular somewhere.