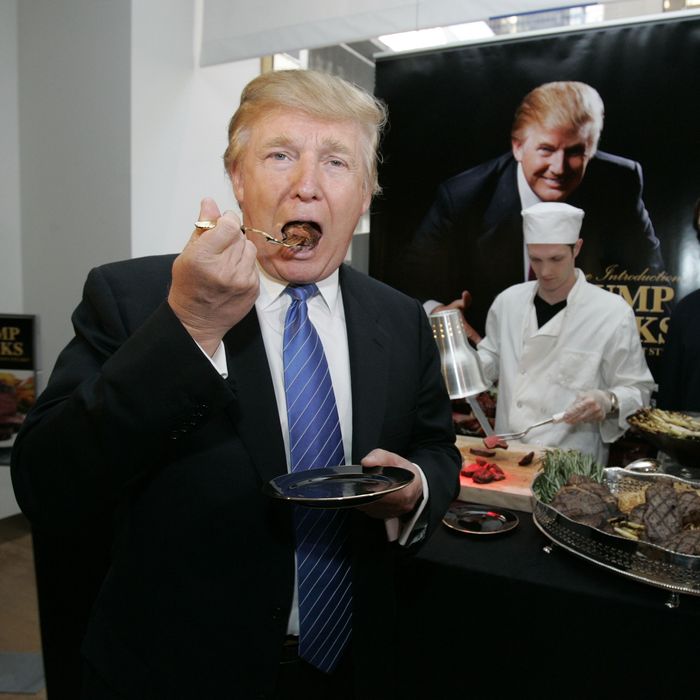 Donald Trump eating a Trump Steak, back when Trump Steaks existed, which they no longer do.
Photo: Corey Sipkin/NY Daily News Archive via Getty Images
On March 3, Mitt Romney denounced Donald Trump in a speech that, among other topics, mocked the failure of numerous Trump-branding ventures: "Whatever happened to Trump Airlines? How about Trump University? And then there's Trump Magazine and Trump Vodka and Trump Steaks and Trump Mortgage. A business genius he is not." The next week, Trump responded by displaying a table of steaks, which he claimed were Trump Steaks. "I built a great, great company," he announced. "You have the water. You have the steaks." In fact, Trump Steaks had gone out of business years before, just as Romney said. The steaks on display had been purchased from Bush Brothers, a local butcher shop. Trump's staff had not even bothered to fully remove the labels:
I have developed a minor fixation with this incident, which embodies Trump's hilariously brazen dishonesty. You would think a deception so crude would have earned Trump relentless scorn by the prestige liberal media. You would be wrong.
The initial report on Trump's speech in the New York Times, by television critic James Poniewozik, strongly implied that the slabs of meat on display were not Trump Steaks:
Were the "Trump Steaks" the same product Mr. Trump once sold through the Sharper Image catalog? … Apparently not, but then again this contest, if not Mr. Trump's entire career, has been about appearance versus reality, or the ability of appearances to create their own reality. … Branding, Mr. Trump's specialty, is the capitalist version of transubstantiation. The businessman-celebrity bestows his blessing on a humble slab of meat and lo, it becomes a Trump Steak.
The archness may have eluded some readers, but the skepticism was strong enough for a next-day story written in the fog of propaganda. From that point on, though, the Times' steak reportage has regressed. On May 24, Michael Barbaro and Jessica Dimson reported on Trump's showmanship, straightforwardly regurgitating Trump's claims that the steaks were Trump Steaks. "Now that Mr. Trump is the presumptive Republican nominee, he will be busy starring in his news conferences, selling steaks, hotels and, of course, himself," they reported. "His bizarre news conference at the Jupiter golf course in March doubled as a prime-time infomercial for his products, which he displayed one by one: Trump's steaks, Trump's water and Trump's magazine."
A June 21 report by Alan Rappeport presented the alleged steaks as an example of a conflict of interest between Trump's political and business interests: "Mr. Trump's use of his branded water and steaks falls into something of a gray area." It would be a gray area for Trump to promote Trump Steaks if Trump Steaks were an extant business. But they are not.
Finally, today, Ashley Parker and Maggie Haberman accurately and unambiguously report that the steaks at the press conference were not Trump Steaks at all: "[A]t a primary election event in March at Trump National Golf Club in Jupiter, Fla., Mr. Trump spoke flanked by bottles (and cases) of Trump-branded wine, Trump-branded water, and a mound of raw steaks, which he tried to pass off as his brand." Finally, History's Greatest Lie has been put to rest.