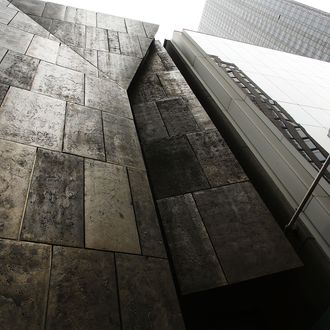 Tod Williams Billie Tsien's (now demolished) American Folk Art Museum.
Photo: Spencer Platt/Getty Images
In retrospect, Barack Obama's first major decision of his post-presidency — the selection of an architect for his presidential library — seems self-evident. After years of conversations that involved both POTUS and FLOTUS at every step, the job went to Tod Williams and Billie Tsien, the quietest of American superstars, working with Interactive Design Architects.
The building has yet to be designed on a site yet to be chosen, with money still to be raised. But already it's easy to see how TWBTA's aesthetic of sensual simplicity will fit with Obama's low tones and long game. Instead of bursting onto the scene, the husband-and-wife partners let the scene come 'round to them. They have been working together for nearly 40 years, and it's been more than 20 since they completed the Scripps Neurosciences Institute in La Jolla, a low village of laboratories that hugs its hillside like a Stone Age settlement. In 1999, when computer-aided design was speeding up architects' work rhythms and making drawing obsolete, they published a contemplative essay "On Slowness":
We draw using pencil and ink, on mylar and on vellum. When we make changes, they occur with effort and a fair amount of tedious scrubbing with erasers, erasing shields, and spit. We have to sift back through previous drawings and bring them to agreement. So, decisions are made slowly, after thoughtful investigation, because they are a commitment that has consequence. It is better to be slow.
These are not the words of a retrograde or nostalgic practice, but a public-spirited firm that has produced gorgeously crafted, sensitively detailed buildings — including one of New York's shortest-lived gems, the American Folk Art Museum. By the time that quirky little building was doomed by MoMA's expansion, Williams and Tsien had built Lakeside in Prospect Park, a roofed ice rink swaddled in walkable hills.
If the Obama Library is even a fraction as controversial as the Obama administration, it will attract a lot of noise. But just as the president answers rage with calm, Williams and Tsien have proven themselves capable of providing contemplative havens for unsettled arguments. When the Barnes Foundation abandoned its suburban Philadelphia home and moved downtown in pursuit of crowds and revenue, the decision kicked off years of litigation and art-world acrimony. But TWBTA's building deflected all of the controversy through tactile calm: pitted stone, silk-and-wool wall hangings, carved ridges, warm banisters. This is a building you want to reach out and touch.