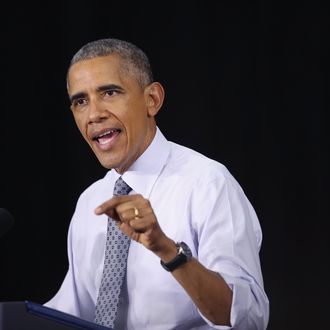 Photo: Scott Olson/2016 Getty Images
Forty-two non-violent federal inmates will soon be free after President Obama commuted their sentences on Friday. Almost all were incarcerated for drug-related offenses — and about half of them were serving life terms. Most of the inmates will be released by October of this year, though some may need to wait until next June.
This is President Obama's third big wave of commutations this year: In May, he shortened the sentences of 58 offenders, and in March he granted clemency to 61 inmates. The president has now commuted the sentences of 348 prisons, the majority of whom were also locked up for drug-related crimes. He's now granted more commutations than all the past seven presidents — combined. For comparison, Dubya gave just 11 commutations in his eight years; Clinton a total of 61.
President Obama is likely to grant quite a few more commutations, and probably more pardons, as his term in office winds down. (Pardons are doled out a bit more sparingly: They amount to exoneration, whereas commutations reduce the punishment.) All of this is part of the president's pushback against harsh sentencing and mandatory minimums, most of which disproportionately affect low-income people and minorities. In 2014, the administration launched a clemency initiative to help people who were sentenced under harsher guidelines than those that exist now. The Justice Department still has about 9,000 clemency applications pending.