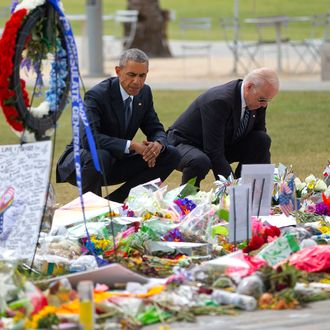 Photo: Pablo Martinez Monsivais/AP
"Four days ago, this community was shaken by an evil and hateful act," President Obama began, speaking to the press in Orlando Thursday afternoon. "Today, we are reminded of what is good. That there is compassion, and empathy, and decency, and most of all, there is love. That's the Orlando that we've seen in recent days. And that is the America that we have seen."
The president, once again becoming "consoler-in-chief" after a mass shooting, flying down to city to pay respects and meet with relatives of the 49 people who died in the Pulse nightclub attack. Vice-President Joe Biden also made the trip. He and Obama met with families of the deceased, one by one, at the Amway Center. They also met with Pulse employees, police, hospital workers, and survivors. As of this morning, 23 victims still remain hospitalized, with six injured critically.
After the private meetings, President Obama and Vice-President Biden visited the sprawling memorial at the Dr. Phillips Center for the Performing Arts. Both laid bouquets, a bundle of 49 roses for every person killed. "Our hearts are broken, too. We stand with you," Obama said in brief remarks after meeting with the families. "We are here for you."
Obama's statement touched on some familiar themes: a call for resilience, solidarity, and unity; a plea for action on guns. "We can't anticipate or catch every single deranged person who may wish to do harm," he said. "But we can do something about the amount of damage they can do."
The president also briefly touched on the fight against ISIS overseas, but quickly jumped back to lawmakers' responsibility to take action at home. "Our politics have conspired to make it as easy as possible for a terrorist … to buy extraordinary powerful weapons and they can do so legally," he said.
Obama called the Orlando rampage an act of terror, but he also forcefully declared it an "act of hate." "This was an attack on the LGBT community," he said. He called Pulse a sanctuary, one that was "violated in the worst way imaginable." "Hatred toward people because of sexual orientation, regardless of where it comes from, is a betrayal of what's best in us."
"You can't break up the world into 'us and them' and denigrate and express hatred toward groups because of the color of their skin, or their faith, or their sexual orientation, and not feed something very dangerous in this world," Obama said, in what felt like another subtle repudiation of Trump and some of the divisive rhetoric that's followed the shooting. "So if there was ever a moment for us to reflect and reaffirm our most basic beliefs that everybody counts and everybody has dignity, now's the time."
Here are President Obama's full remarks: