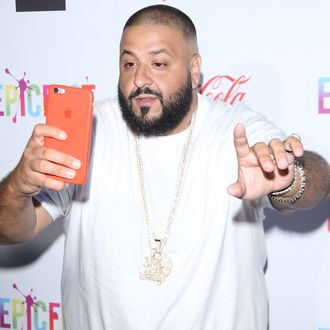 Photo: Michael Tran/FilmMagic
DJ Khaled's Snapchat style typically consists of antics like getting lost on a Jet Ski, doling out life advice — "major keys" — and expressing general gratitude for his life (including his current gig as the opening act for Beyoncé's Formation tour). But he's got some, um, more graphic content planned in the coming months.
"Actually, I wanna Snapchat the whole birth," Khaled said on Jimmy Kimmel Live! When Kimmel asked what his fiancée had to say about broadcasting the birth, Khaled seemed convinced it wouldn't be an issue. "The key is that I'm the king and every queen should support the king. I'm a talk to the doctor and if he says everything is going to run smooth, meaning that the queen is right and my son is right, if it's running smooth … I can just do my thing." (For the record, men, saying "The 🔑 is that I'm the 👑 and every 👸 should support the 👑" is not a good way to get your wife to do things.)
Khaled followed up by saying he thinks his son is "definitely going to have a beard" and that he already considers him a "young icon." Which would make a great album name to be honest. Perhaps a follow-up to Khaled's upcoming album Major Key.