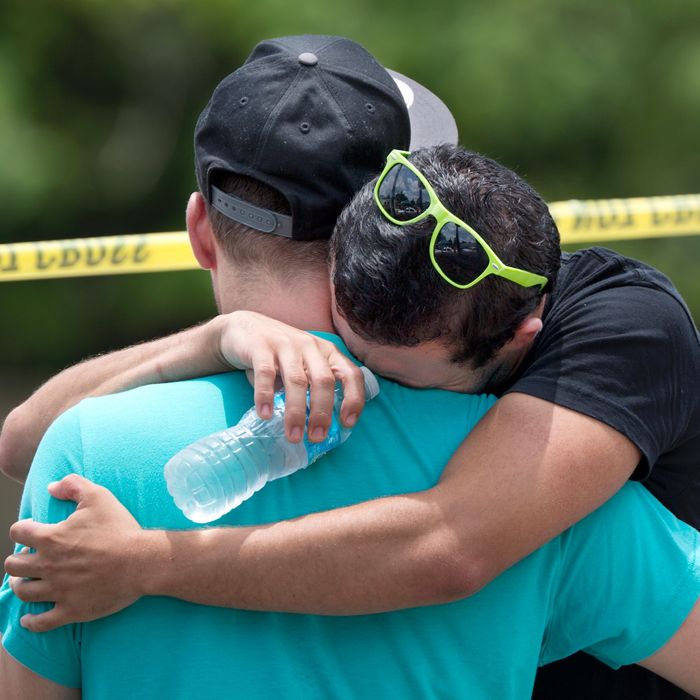 Two men grieve near the site of last night's attack on an Orlando gay club.
Photo: Gregg Newton/AFP/Getty Images
The Latest
Shooter Omar Mateen was "cool and calm" after taking hostages, according to cops. He reportedly said that he was affiliated with

ISIS

and referred to the Tsarnaev brothers as his

 

"homeboys." 
The gunman had hung out at Pulse, the gay nightclub where he went on his shooting rampage, "at least a dozen times," witnesses

 

say.
Mateen may have scouted out Disney World, according to law-enforcement

 

sources.
Mateen allegedly enrolled in an online course in Islam with a radical, anti-gay

 

imam.
The death toll has been revised down by one to 49 people. More than 50 were injured. It is the single deadliest mass shooting in

U.S.

 

history.
The suspected gunman, 29-year-old

U.S.

citizen Omar Mateen, was likely radicalized online. President Obama and

FBI

director James Comey said it was highly unlikely the plot had direct ties to

ISIS

or any other terror

 

network.
Overview
Forty-nine people are dead and 53 injured after a well-organized and well-prepared gunman opened fire and took hostages inside a gay nightclub in Orlando, Florida, at about 2 a.m. Sunday morning. (The FBI revised the number of victims down from 50 to 49 Monday.) Authorities are calling the attack, which is the deadliest mass shooting in U.S. history, an "act of domestic terrorism." The gunman, identified as 29-year-old U.S. citizen and Florida resident Omar Mateen, was found dead inside the club following a shootout with a police SWAT team at around 5 a.m. He was armed with an AR-15-type assault rifle, handgun, knife, and "some kind of device." Law enforcement officials have indicated that they suspect the attacker has ties to Islamic extremism, and it has been reported that Mateen made a 911 call and declared his allegiance to ISIS and called the Boston Marathon bombers his "homeboys" prior to the attack. Since the target was a gay nightclub, the attack is also the worst ever attack on the U.S. LGBT community, as well as the deadliest hate crime in modern American history.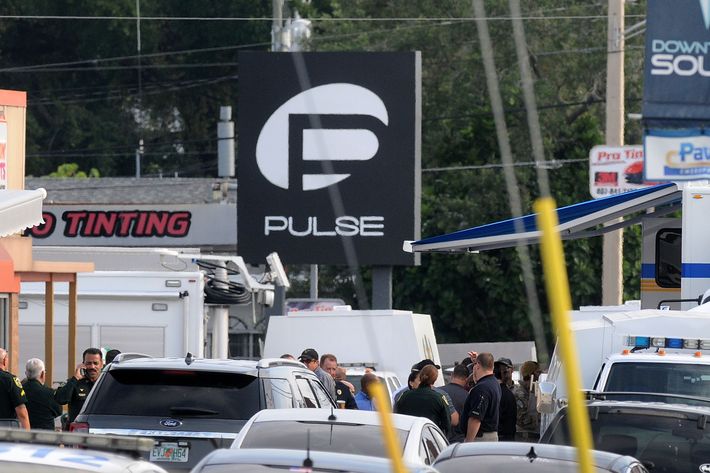 The Attack and Aftermath
About 320 people were inside the Pulse nightclub when the gunman entered the club and started shooting, just before last call around 2 a.m. Witnesses reported hearing as many as 40 shots as they tried to rush to safety, with some crawling away on the floor across broken glass and bottles, and others hiding in a restroom. An off-duty police officer working security at the club initially engaged in a gun battle with the shooter but was apparently unable to stop him. The shooter then opened fire on the crowd. The club, which was hosting its weekly Latin Night, quickly posted a frantic message on their Facebook page warning patrons, "Everyone get out of pulse and keep running." The gunman eventually took about five patrons hostage in a bathroom and holed up inside.
Once police arrived, they apparently established communication with the gunman. Orlando police chief John Mina, at a Monday press briefing, described the shooter as "cool and calm" in his conversations with cops. Mina said no shots were fired, but Mateen brought up his allegiance to ISIS and his admiration for the Tsarnaev brothers, reports the Times. He told police that he had explosives on his person, which prompted law enforcement to act. Those boasts turned out to be false; Mateen only had firearms. 
At around 5 a.m., police conducted a raid to rescue the hostages. Officers tried to blow a hole in the wall with explosives. That failed to breach the wall, so they drove an armored vehicle into the building to break through and set the hostages free. Mateen also emerged and was killed in the resulting firefight. Some 30 hostages were rescued at that time, mostly from an isolated room that the killer could not enter, and which police ultimately breached using an armored car.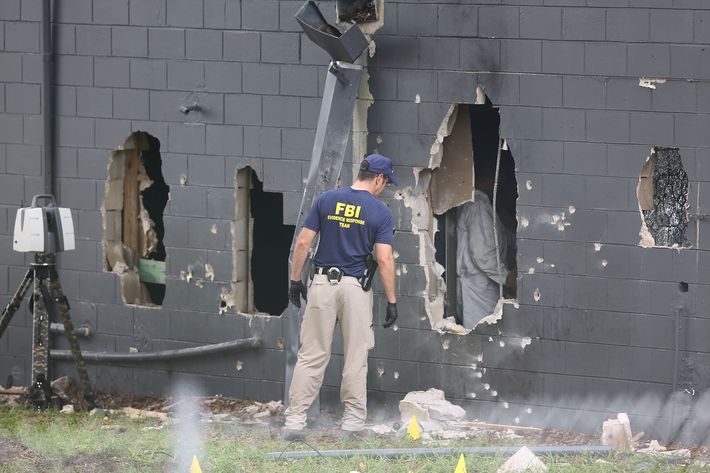 One SWAT team member was shot in the head during the rescue, but was saved by his Kevlar helmet:
The New York Times has constructed a rough timeline of the attack based on what information has emerged so far. And in this video, compiled by The Guardian, a variety of witnesses describe what the attack and aftermath were like:
In these videos posted via social media, victims can be seen being treated by first responders outside the club, and a barrage of gunfire can be heard, presumably between police and the gunman during the SWAT raid:
By the end, roughly one out of every three people at the club were either injured or killed in the attack.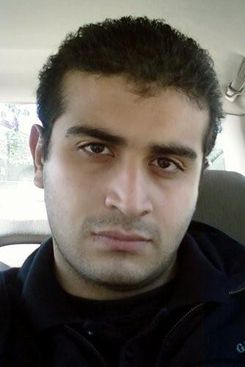 The Suspected Shooter and His Possible Motivations
According to the Washington Post and multiple other news organizations, the suspected attacker has been identified "by relatives and law enforcement officials" as 29-year-old Omar Amir Siddiq Mateen, a U.S. citizen who resided roughly 125 miles south of Orlando in Port Saint Lucie, Florida, where he worked for a private security company called G4S. Late Monday night the company released a statement saying Mateen was employed at a gated retirement community and had undergone background checks.
Mateen was born in New York, in 1986, but eventually moved to Florida with his family. His parents had emigrated to the U.S. from Afghanistan. Mateen's father, Seddique Mateen, told NBC that, "We are saying we are apologizing for the whole incident. We weren't aware of any action he is taking. We are in shock like the whole country." 
In 2006, Mateen earned an associate's degree in criminal justice technology from Indian River State College. He had then been working for the G4S private security firm since 2007. Bloomberg reports that G4S is a major U.S. government contractor, particularly with the Department of Homeland Security. About 15 percent of its employees are rescreened every year, though it's unclear if Mateen was subject to a re-check. Its armed guards, including Mateen, carry weapons on the job and receive firearms training. The weapon he used at work was reportedly not involved in the attack. 
Mateen was well-organized and well-prepared for the clearly premeditated attack, and was armed with both an AR-15-type assault weapon, a handgun, and a knife. He wasn't wearing or carrying an explosive device, despite what he initially told police. Florida records indicate that Mateen was licensed as a security officer in the state, and also had a firearms license. An official at the Bureau of Alcohol, Tobacco, and Firearms announced on Sunday that Mateen had legally purchased two firearms within the last week or so. Authorities believe those were the weapons he used in the attack. 
Ed Henson, the owner of the gun shop where the shooter purchased his weapons, said Mateen raised no red flags and passed all his state and federally mandated background checks without incidence. "An evil person came in here, and legally purchased two firearms from us," Henson said. "If he hadn't purchased them from us, I'm sure he would have gotten them from another local gun store in the area." He added that he wished he had "picked no place." 
Nothing is yet known about how the gunman chose his target, but witnesses have come forward to say they've seen Mateen at the gay nightclub on multiple occasions — possibly going back years before his deadly attack. The Orlando Sentinel spoke to four club regulars who recognized the gunman from past visits to Pulse:
"Sometimes he would go over in the corner and sit and drink by himself, and other times he would get so drunk he was loud and belligerent," said Ty Smith, who also uses the name Aries.

He saw Mateen at the club at least a dozen times, he told the Orlando Sentinel.

"We didn't really talk to him a lot, but I remember him saying things about his dad at times," Smith said. "He told us he had a wife and child."
Another regular, Chris Callen, told the Canadian Press that Mateen had been "going to the bar for at least three years." They said he came with a friend to drink and let loose. Callen and Smith, who also gave an interview to the Canadian outlet, recalled an incident where Mateen had threatened fellow clubgoers:
In separate interviews, both Callen and Smith described one incident that unnerved them.

They said they decided to keep their distance from Mateen after he exploded in anger at a joke told by one of their friends, possibly about religion: "He ended up pulling a knife," Callen said.

"He said if he ever messed with him again, you know how it'll turn out."
Another witness said that Mateen had messaged him on Jack'd, a gay social-networking site, three months ago. "When he first contacted me, he was saying things like, 'What clubs are popping and things of that sort, what are good places to go?" the man told ABC News. "And I remember telling him, 'Oh, you can just look it up online because I don't go out that much."
Orlando police chief Mina said he had no knowledge of those reports, according to the Sentinel. 
CBSN reported that Pulse night club had at least appeared on the killer's browsing history days before the attack, and the owner of another large gay club in Orlando told the East Orlando Post that he received a Facebook friend request from Mateen last week, which he rejected. He says the FBI is now reviewing his security footage to see if Mateen ever scouted that club. It's therefore possible Mateen could have also contacted or visited other gay clubs in his search for an ideal target.
At the same time, law-enforcement sources told CBS News that Mateen apparently enrolled in the "Fundamental Islamic Knowledge Seminary," an online course operated by an imam named Abu Taubuh, also known as Marcus Robertson, who preaches anti-gay sermons. 
Mateen allegedly scouted other targets in the Orlando area, specifically Walt Disney World, sources told The Wall Street Journal. The killer visited the resort and theme park, though it's unclear when he visited, and which specific location he had gone to see. 
Regarding Mateen's motivation for the attack, NBC News reports that law-enforcement officials say Mateen declared his allegiance to the leader of ISIS in a 911 call. He also referred to the Tsarnaev brothers as his "homeboys," though investigators say there's no proof he ever had contact with either of the Boston Marathon bombers. Earlier, during a Sunday-morning press conference, an FBI spokesman cautioned that they were investigating multiple leads, but also indicated that, "We do have suspicions that the individual may have leanings toward [a jihadist] ideology." Florida senator Bill Nelson and Florida representative Adam Schiff have both indicated that law-enforcement officials told them that they believe there is a link between Mateen and ISIS, but Nelson also stressed that such connections remain unconfirmed, as the investigation is ongoing. Indeed, officials have not officially confirmed any link between Mateen and any organized terrorist groups.
There were originally no indications that ISIS or any other terrorist group had claimed responsibility for the attack, and if the gunman was motivated by a jihadist ideology, he also could have been acting as a "lone wolf," as ISIS has instructed its followers to conduct such attacks. Later on Sunday, an ISIS claim for the attack did emerge, though that doesn't mean anyone in the organization helped plan the attack, or even knew about it before it happened.
Here is the full statement, published in the New York Times and translated by the SITE Intelligence Group:
With facilitation from Allah the Almighty, the brother Omar Mateen, one of the soldiers of the Caliphate in America, carried out a security raid in which he was able to enter into a gathering of Crusaders in a nightclub for followers of the people of Lot in Orlando, Florida. Allah enabled him to subdue the impure Crusaders, killing and wounding more than a hundred of them before he was killed — may Allah accept him. It should be pointed out that this invasion is the largest in America in terms of the number killed.
ISIS had also recently made their annual call for followers to take advantage of the holy month of Ramadan to conduct attacks.
According to law enforcement sources who spoke with both NBC News and the Daily Beast, Mateen was a "known quantity" to federal authorities, and had previously been investigated for having Islamic extremist views. Per The Guardian, the FBI eventually detailed those investigations in a press conference on Sunday afternoon, with special agent Ron Hopper explaining that:
The FBI first became aware of Mateen in 2013 as he made inflammatory comments to coworkers, alleging possible terrorist ties. The FBI thoroughly investigated the matter including interviews of witnesses, physical surveillance and records checks. In the course of the investigation, Mateen was interviewed twice. Ultimately we were unable to verify the substance of his comments, and the investigation was closed. 
FBI director James Comey said Mateen told authorities that he made those connections up because he was fed up with his co-workers, "who were were discriminating against him and teasing him because he was Muslim."
They investigated him again in 2014, after Mateen suggested he had a relationship with American suicide bomber Omar Abu Salah, but the FBI found that "contact was minimal and didn't to constitute a substantive relationship or threat at that that time."
Mateen was briefly married, from 2009 to 2011, and in an interview with the Washington Post, his ex-wife said that he was abusive, and did not seem interested in radical Islam. She also questioned his mental health:
"He was not a stable person," said the ex-wife, who spoke on the condition of anonymity because she feared for her safety in the wake of the mass shooting. "He beat me. He would just come home and start beating me up because the laundry wasn't finished or something like that."

"He seemed like a normal human being," she said, adding that he wasn't very religious and worked out at the gym often. She said in the few months they were married he gave no signs of having fallen under the sway of radical Islam. She said he owned a small-caliber handgun and worked as a guard at a nearby facility for juvenile delinquents. "He was a very private person," she said.
She adds that her parents, after they learned of his abuse, came to Florida and pulled her out of the house, and she never spoke to Mateen again. She believes "they literally saved my life."
One of Mateen's former co-workers, Daniel Gilroy, told the New York Times he "wasn't shocked" when he heard about what had happened in Orlando. "I saw it coming," he said. "He talked about killing people all the time. He was just agitated about everything, always shaken … always mad," Gilroy said, adding that Mateen was prone to using racial, sexual, and ethnic slurs.
Mateen's father also indicated to NBC that he believes his son may have been motivated by homophobia, not religious extremism. "This has nothing to do with religion," he told them. He said Mateen had become enraged after seeing two men kissing in Miami a few months ago, and that he believed that incident may be related to the attack.
With regards to Mateen's father, the Washington Post notes that he hosts a somewhat incoherent political television show related to Afghan politics, in which he at least once expressed support for the Afghan Taliban:
Seddique Mateen, who has been referred to as Mir Seddique in early news reports, hosted the "Durand Jirga Show" on a channel called Payam-e-Afghan, which broadcasts from California. In it, the elder Mateen speaks in the Dari language on a variety of political subjects. Dozens of videos are posted on a channel under Seddique Mateen's name on YouTube. A phone number and post office box that are displayed on the show were traced back to the Mateen home in Florida. Mateen also owns a nonprofit organization under the name Durand Jirga, which is registered in Port St. Lucie, Fla.

In one video, Mateen expresses gratitude toward the Afghan Taliban, while denouncing the Pakistani government.
A state of emergency has been declared in Orlando so that law-enforcement officials can focus on the investigation, according to Orlando mayor Buddy Dyer. Mateen's residence in Port Saint Lucie was searched by authorities on Sunday morning as was a house belonging to his relatives, also in Port Saint Lucie. Prosecutors said Monday that investigators had conviscated electronic and criminal evidence from the gunman's residence, and are looking into possible accomplices. "I do want to let you know that we have no reason to believe that anyone connected to this crime is placing the public in imminent danger at this time," said U.S. Attorney for Central Florida, Lee Bentley III, on Monday. "That there is an investigation of other persons. We're working as diligently as we can on that. We have teams of prosecutors, as well as teams of agents working around the clock, getting search warrants, getting court orders. If anyone else was involved in this crime, they will be prosecuted."
To complicate matters, authorities received reports of a potential break-in at Mateen's condo Monday morning, not long after the FBI had wrapped up their raid. Witnesses noticed that the back sliding door was partially open. The lock had apparently been broken.
Comey, who refused to call the shooter by name, said Monday that no evidence existed at this point to indicate the shooter had direct instructions from a terrorist network to carry out the attack, or that he had even been in contact with ISIS or another radical group. Comey added: "It is also not entirely clear just what terrorist group he aspired to support. Although he made clear his affinity, at the time of the attack for ISIL, and generally, in the time leading up to the attack for radical Islamist groups.
President Obama echoed Comey's assertions, saying Mateen was likely radicalized by online propaganda. He called it one of the administration's biggest challenges" in the fight to defeat ISIS. "Countering this extremist ideology is increasingly going to be just as important that we're disrupting more extensive plots engineered from the outside," he said.
"It's not an either-or; it's a both-and," Obama continued. "We have to go after these terrorist organizations and hit them hard. We have to counter extremism. We also have to make sure that it is not easy for somebody who decides they want to harm people in this country to be able to obtain weapons."
The Victims
Initially, 20 people were reported to have been killed, but the toll was later updated to 50 killed and 53 wounded. On Monday, the FBI said the total number of victims stood at 49. (The original number of 50 dead included the gunman.) That revised total came after authorities were able make sure the club was cleared of potential explosives and safely access the entire building, discovering the additional victims. Most of the victims — 39 people, including the shooter — were found dead inside the club, reports the Times. Authorities found two bodies outside the club, and at least nine people died on the way to the hospital. The updated total makes the attack the worst mass shooting in U.S. history, and it was already the worst-ever attack on the U.S. LGBT community.
The media is beginning to learn more about those killed in the attack, and Orlando authorities have identified almost all of the victims, and notified next of kin for a little more than two dozen of those killed. Officials have begun to release the names of those vicitms. The city of Orlando is posting the names of the dead on its website after the families have been contacted. 
The portraits of those murdered are beginning to emerge. Because it was Latin Night at Pulse, many of the victims were Latino. Officials have put out a call for volunteer translators to help contact families of the deceased, many of whom are Spanish speakers. The youngest killed was 19; the oldest 50. They included 22-year-old Luis Vielma, who worked at the Wizarding World of Harry Potter in Universal Studios, and 34-year-old Edward Sotomayor Jr. who had organized the first-ever gay cruise to Cuba in April. At least one New Yorker died in the attack, a social worker and aspiring nurse, 25-year-old Enrique Rios. One victim, 30-year-old Eddie Jamoldroy Justice, texted his mom that he loved her and was in the bathroom: "He's coming," he wrote. "I'm gonna die." 
Orlando health officials said 43 of the 53 hurt in the attack are still hospitalized as of Monday morning. The hospital said five people remain in "grave" condition. With the exception of those people who died en route, none of those admitted to the hospital since have died of their wounds.
The many people injured in the attack were taken to three area hospitals, and there are multiple heartbreaking reports of family members trying to locate their loved ones throughout the morning. Indeed, one of the most harrowing details to emerge after the attack is that law-enforcement investigators said that after they entered the club, they had to tune out the sound of cell phones going off among the dead, presumably as frantic friends and family members tried to call the victims to see if they were okay.
Medical officials asked area residents to donate blood in the wake of the attack (locations to do that can be found here) and the response was overwhelming — though many have pointed out that, despite this attack striking the LGBT community, FDA rules still prohibit gay men from donating blood if they have been sexually active within the past year. 
In addition, police have have set up a hotline (407-246-4357) for family members who believe a loved one may be one of the victims. Facebook has also activated its safety-check feature for Orlando-area users. Orlando authorities have also asked the public not to hold any large-scale vigils for a while, as the city's resources are still stretched too thin following the attack.
But vigils sprung up in other cities, including one outside Stonewall Inn in New York City, which is set to be named a national monument to gay rights.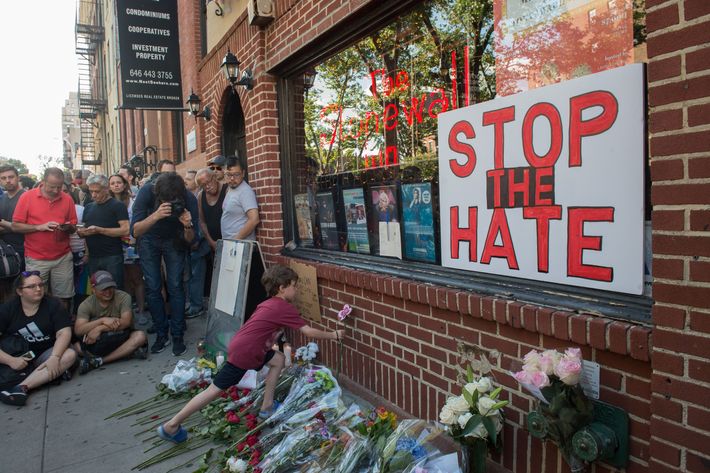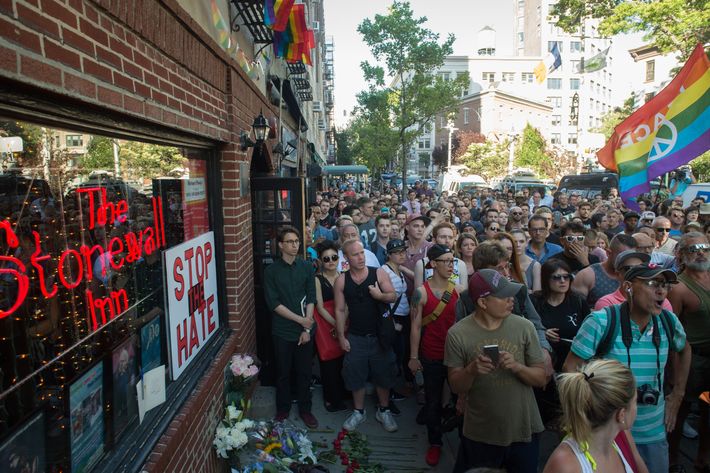 The Location
The venue where the attack occurred, the Pulse nightclub, is one of the largest clubs in Orlando, Florida, and caters to the LGBT community. One of the DJs playing Saturday night told the Times, "This is a nice club, decent, people come from all over to dance and have a good time. Young people. A lot of young people were there last night." A former Pulse dancer who spoke with McClatchy DC explained in more detail:
"Pulse is like a family. Everybody who works there is treated equally. Treated like brothers and sisters. When somebody is hurting or in need, we always look out for each other," said Benjamin Di'Costa, 25, a former Pulse dancer who later lived in Broward County and now works as an HIV counselor in Chicago. The nightclub, which caters to a younger clientele, is about a half-mile from Orlando's downtown area, Di'Costa said.

"This is one of the No. 1 destinations for LGBT people to attend in the summertime," he said. "Mostly people from Central Florida, some people come from Tampa to Orlando." … "Very trendy club, mostly younger, different demographics. It's been one of the most popular clubs. They've been around about 10 years[."]

Di'Costa said that on most nights, Pulse would be filled with between 500 and 600 patrons, but that on a "high capacity" night like Saturday, up to 800 people might be there.
He added that the only reason there were fewer people in the club when the attack happened on Saturday night was because it was close to closing time and most patrons had already left.
Here is a 2008 video that shows the interior of Pulse:
The Political Response
Barack Obama addressed the nation on Sunday afternoon regarding the attack, which he called both "an act of terror and an act of hate." He also highlighted how horrifying it was that the target was a gay club, which he called "a place of solidarity and empowerment" for the LGBT community, and connected the shooting to the larger problem of gun violence in America, adding that:
This massacre is therefore a further reminder of how easy it is for someone to get their hands on a weapon that lets them shoot people in a school, in a house of worship, or in a movie theater ,or in a nightclub. And we have to decide if that's the kind of country we want to be. To actively do nothing is a decision as well.
Watch his entire remarks below:
Vice-President Biden also released a written statement following the tragedy in which he called the shooting "an act of pure hate and unspeakable terror:"
Presidential candidates Hillary Clinton and Donald Trump have both responded to the tragedy, first on Twitter, and with more substantive statements later on Sunday:
Clinton would later release a larger statement, in which she focused a little more on the terrorism element than Obama had, but still essentially echoed his remarks:
This was an act of terror. Law enforcement and intelligence agencies are hard at work, and we will learn more in the hours and days ahead. For now, we can say for certain that we need to redouble our efforts to defend our country from threats at home and abroad. That means defeating international terror groups, working with allies and partners to go after them wherever they are, countering their attempts to recruit people here and everywhere, and hardening our defenses at home. It also means refusing to be intimidated and staying true to our values.

This was also an act of hate. The gunman attacked an LGBT nightclub during Pride Month. To the LGBT community: please know that you have millions of allies across our country. I am one of them. We will keep fighting for your right to live freely, openly and without fear. Hate has absolutely no place in America.

Finally, we need to keep guns like the ones used last night out of the hands of terrorists or other violent criminals. This is the deadliest mass shooting in the history of the United States and it reminds us once more that weapons of war have no place on our streets.

This is a time to stand together and resolve to do everything we can to defend our communities and country.
Hillary Clinton gave a national-security speech in Cleveland Monday and called for an "intelligence surge" to help identify lone-wolf attackers.
And as might be expected from someone who called for a ban on Muslim immigrants following the San Bernardino terrorist attack last year, Trump's comments had a sharper political edge from the start, as he quickly used the attack for a kind of self-gratifying told-you-so moment:
Trump then released a statement regarding the attacks late Sunday afternoon, first trying to suggest that terrorism is a result of political correctness, focusing on how President Obama did not use the term "radical Islam" in his address to the nation (and suggesting he resign because of it):
If we do not get tough and smart real fast, we are not going to have a country anymore. Because our leaders are weak, I said this was going to happen – and it is only going to get worse. I am trying to save lives and prevent the next terrorist attack. We can't afford to be politically correct anymore.
Trump also defaulted to his larger, de facto Islamophobic argument about how Middle Eastern immigrants, i.e. Muslims, shouldn't be let into the U.S.:
The terrorist, Omar Mir Saddique Mateen, is the son of an immigrant from Afghanistan who openly published his support for the Afghanistani Taliban and even tried to run for President of Afghanistan. According to Pew, 99% of people in Afghanistan support oppressive Sharia Law.

We admit more than 100,000 lifetime migrants from the Middle East each year. Since 9/11, hundreds of migrants and their children have been implicated in terrorism in the United States.

Hillary Clinton wants to dramatically increase admissions from the Middle East, bringing in many hundreds of thousands during a first term — and we will have no way to screen them, pay for them, or prevent the second generation from radicalizing.

We need to protect all Americans, of all backgrounds and all beliefs, from Radical Islamic Terrorism — which has no place in an open and tolerant society. Radical Islam advocates hate for women, gays, Jews, Christians and all Americans. I am going to be a President for all Americans, and I am going to protect and defend all Americans. We are going to make America safe again and great again for everyone.
Monday morning on Fox & Friends, Trump lobbed accusations at Obama for the attack: "People cannot — they cannot believe that President Obama is acting the ways he acts and can't even mention the words radical Islamic terrorism. There's something going on. It's inconceivable." And more was to come.
Trump delivered a speech at Saint Anselm College in New Hampshire where he reiterated his "not going to have a country anymore" line unless the United States started adopting some of his suggestions to screen and temporarily ban Muslims. "I called for a ban after San Bernardino, and was met with great scorn and anger but now, many are saying I was right to do so," Trump said. "When I am elected, I will suspend immigration from areas of the world where there is a proven history of terrorism against the United States, Europe or our allies, until we understand how to end these threats." Here are his remarks: 
Several hours after the attacks Ted Cruz also released a statement that echoed Trump's. "Enough is enough," he said. "What we need is for every American — Democrat and Republican — to come together, abandon political correctness, and unite in defeating radical Islamic terrorism." He also warned that the Obama administration — and liberals in general — would "try to exploit this terror attack to undermine the Second Amendment right to keep and bear arms of law-abiding Americans."
This is a developing news story and this post will be updated with new information as it becomes available.