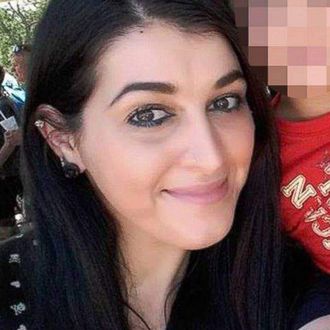 Orlando shooter Omar Mateen exchanged text messages with his wife during last Sunday's massacre at the Pulse gay nightclub, CNN has learned from a law-enforcement official.
Noor Salman, Mateen's second wife, has avoided the press since the incident, and not much is known about her or her relationship with her husband. Earlier this week, it came to light that she might have known about his plans to attack the club and tried to talk him out of it, but she stopped short of alerting authorities. She also was reportedly with Mateen when he purchased the weapons and ammunition used in the attack, in which Mateen killed 49 people and wounded 53, before being shot dead by law enforcement.
CNN reports that around 4 a.m. on the night of the attack, about two hours after Mateen had entered the club, he sent his wife a text message to ask if she had seen the news. She responded with a text saying she loved him, and she also made several unanswered calls to his phone during Mateen's standoff with police.
Mateen also went on Facebook during the attack, the Associated Press reports, citing a letter from Senate Homeland Security Committee chairman Ron Johnson released Wednesday.
The gunman had at least five Facebook accounts and made a series of posts both during and shortly before Sunday's deadly attack, in which he wrote, "The real muslims will never accept the filthy ways of the west," and warned that "in the next few days you will see attacks from the Islamic state in the usa." He also reportedly used Facebook during the attack to search for "Pulse Orlando" and "Shooting," according to the letter.
The Senate committee has asked Facebook CEO Mark Zuckerberg to help authorities uncover the full scope of the shooter's online activities.
A few more details have emerged about Salman in recent days — the AP reports that she and Mateen were married in 2011 near her hometown of Rodeo, California, and had a son who is now three years old. The 30-year-old Salman was born in the U.S. to immigrant parents of Palestinian origin, who were naturalized in 1984.
Salman's family still lives in northern California; a neighbor described her to the AP as friendly but sheltered, and said Mateen was her second husband after her first, an arranged marriage, didn't work out.
Mateen had also been married previously: to Sitora Yusufiy in 2009. Unlike Salman, Yusufiy has been forthcoming with the press, describing Mateen as mentally unstable and telling reporters that he had abused her during their brief marriage.
Meanwhile, CNN also reports that employees of a Florida gun store had contacted authorities about Mateen last month after he tried to buy body armor and 1,000 rounds of ammunition. Robert Abell, the owner of Lotus Gunworks in Jensen Beach, said his employees had become suspicious and called the FBI, but did not know the prospective customer's name so couldn't identify him. Federal officials told CNN they had no record of any such call.