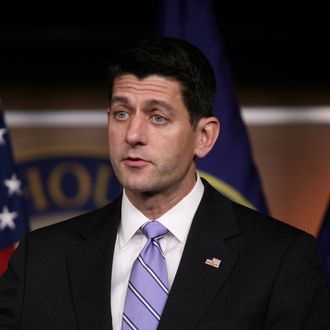 Paul Ryan is stuck between a Trump and a hard place.
Photo: Evy Mages/2016 Getty Images
When it comes to Donald Trump, Paul Ryan is more or less stuck. He can't outright dismiss the presumptive nominee of his own party — whether for fear a divided GOP would land Clinton in the White House or out of concern for his own political career — so the most he can do is distance himself in subtler ways from the man his party somehow nominated to run for president.
For instance, Ryan openly chastised Trump when the candidate claimed a federal judge's Hispanic heritage was an "inherent conflict of interest," and on Sunday, he said he doesn't blame his fellow GOP lawmakers for withholding their support from Trump. "The last thing I would do is tell anybody to do something that's contrary to their conscience," he said on NBC's Meet the Press. "This is a very strange situation. This is a very unique nominee."
Ryan also insinuated that, were he not the leader of the Republican party, he might not have thrown his weight behind the "very unique nominee" at all — but as speaker of the House, he has certain obligations to fulfill.
"I feel like I have certain responsibilities, as not just Congressman Paul Ryan from the 1st District of Wisconsin, but as speaker of the House," Ryan said in an interview that aired Sunday. "And imagine the speaker of the House not supporting the duly elected nominee of our party, therefore creating a chasm in our party to split us in half, which basically helps deny us the White House and strong majorities in Congress."

"The last thing I want to see happen is another Democrat in the White House," he continued. "I don't want to see Hillary Clinton as president. I want to see a strong majority in the House and the Senate. And I think the way to achieve those goals is to have a more unified party, than a disunified party."
Ryan's comments come as a handful of anti-Trump Republicans revealed they're crafting a plan to wrest the nomination from his grasp. "This literally is an 'Anybody but Trump' movement," the group's leader said. "We're just doing that job to make sure that he's not the face of our party." At a campaign rally in Las Vegas Saturday, Trump called the plan "illegal" and "a hoax." 
"Who're they gonna pick? I beat everybody," he said. "I beat the hell out of them."