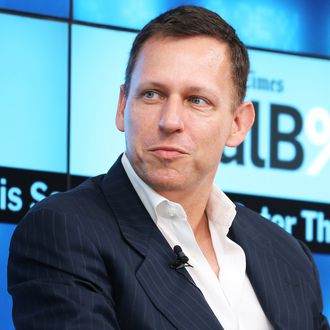 Photo: Neilson Barnard/Getty Images
Since it was revealed last month that Silicon Valley billionaire Peter Thiel was funding lawsuits against Gawker Media — in particular a multimillion-dollar suit filed by the pro wrestler Hulk Hogan — details about his day-to-day involvement have been scant. Did Hogan know who was behind the suit? Had the two ever talked? As it turns out: Nope! According to Forbes, the idea that Thiel is a shadowy puppet master isn't as hyperbolic as it sounds.
Forbes's Ryan Mac and Matt Drange report that Thiel was never in direct contact with Charles Harder, the lawyer suing Gawker on behalf of Hogan and other clients. Someone cold-called Harder on Thiel's behalf.
It gets weirder. According to multiple sources familiar with Harder's arrangement, he never had any direct contact with Thiel. And, these sources claim, Harder didn't even know who was funding the litigation until

FORBES

broke the news in May. What he surely did know: The checks cleared. And there was presumably more where that came from, if he could find more

 

cases.
In addition to the Hogan case, and cases involving writer Ashley Terrill and purported email inventor Shiva Ayyadurai, Harder's firm has also worked on cases involving Gawker's unpaid interns, and a case brought by Meanith Huon, who leveled claims against Gawker Media blog Jezebel. Huon stated in open court that he was "getting support from Hulk Hogan's lawyers in California."
In addition to the legal complications, Forbes reports that "at least one Silicon Valley billionaire has quietly pursued the concept of a Gawker buyout by indirectly reaching out to former staffers."