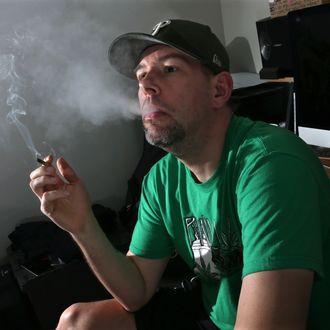 Former U.S. Marine Mike Whiter smokes marijuana before he starts editing a video project at his home in Philadelphia.
Photo: Mel Evans/AP
One of the many problems with having a federal marijuana policy that's premised on the paranoid politics of a bygone era — as opposed to the current consensus of medical science — is that many veterans who could benefit from medicinal cannabis are unable to access it. Even in the 23 states where medicinal marijuana is legal, a federal directive prohibits Veterans Administration doctors from prescribing weed to their patients — or even sharing their professional opinion about its potential utility. That's because marijuana is still a Schedule 1 substance under federal law, a category reserved for drugs with a high potential for abuse and no known medical purpose.
This irrational policy forces many veterans with chronic pain to resort to more addictive opiate-based palliatives, while those with post-traumatic stress disorder are left without access to one of the most effective treatments for their condition.
A new Quinnipiac poll finds that virtually everyone in America objects to this state of affairs. The university's latest survey on the issue shows that American voters believe the VA should allow its doctors to prescribe marijuana to veterans with PTSD by a margin of 87 to 9 percent. On the broader question of whether all adults should be allowed to use medical marijuana if prescribed by a doctor, U.S. voters support access 89 to 9 percent. The poll finds that a majority of voters support blanket legalization of cannabis for recreational and medicinal purposes by a margin of 54 to 41.
The DEA is reportedly considering removing marijuana from Schedule 1. If it doesn't follow through, Hillary Clinton would be wise to endorse Bernie Sanders's bill to reschedule the drug. It's the right position both politically and on the merits.