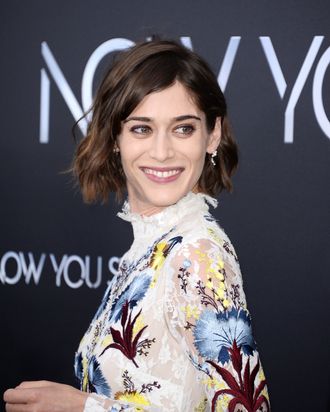 Lizzy Caplan.
Photo: Andrew Toth/Getty Images
The heist at the center of Now You See Me 2 — where magicians execute capers via tricks and illusions — involves what is referred to as "The Stick." It's a device that is said to be able to de-encrypt any computer, any network, no matter the security level, and of course it's coveted by a certain class of thieves.
"The first film was about stealing from bank accounts, and this film is more about stealing information," star Mark Ruffalo told Select All at the film's premiere, on Monday. "This is just a mass gathering of information, and people planning to use it for personal gain."
Given the subject matter, it's no wonder that the film's stars (and magic consultants) became a little paranoid about their own personal information. "I can show you on your phone where they keep all the metadata, if you want," offered Daniel Radcliffe. "What I realized is that deleting all that data doesn't matter, though, because they'll store it somewhere else. We're in one of those moments in society where technology has outpaced the legislation."
Still, the actors take precautions. Ruffalo has had his email account hacked into several times ("and it really messed me up"), so he moved from Mac to Gmail. He's a fan of two-step verification, as is Lizzy Caplan. But she goes even further. Beyond changing her password constantly and hiring professional internet-security help, she also avoids having an online presence — no social-media accounts, and no auto-pay. "I don't think anybody should trust that, or anything like that, with credit cards," she said. "I am so paranoid about my online security, more than anybody I know. I live in fear, like a grandmother!"
David Copperfield, a producer on the film, marveled at how it's actually safer to use practices from an earlier era. "You can't get hacked if you revert to passing handwritten notes!" he said, and laughed.