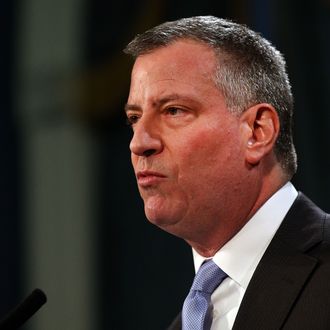 De Blasio said the decision won't change enforcement.
Photo: Spencer Platt/2014 Getty Images
Vision Zero, Mayor de Blasio's citywide plan to eliminate traffic deaths, hit a bit of a snag after a Queens Supreme Court judge ruled against a key law that punishes drivers for failing to yield to pedestrians or cyclists in bike lanes who have the right of way. Known fittingly as the Right of Way law, it passed in 2014, and amounts to a misdemeanor charge. The judge, Gia Morris, argued that this law was unconstitutional because it violated the defendants' due-process rights by applying a civil standard, which has a lower bar than criminal negligence. The judge wrote that the law "violated … the defendant's right to be presumed innocent."
This particular case involved a school-bus driver who was charged under that provision after he hit an elderly woman in a crosswalk in Forest Hills in 2014. The 85-year-old woman died two months later. The misdemeanor carries a $250 fine, or 30 days in prison, at most. The judge, in throwing out the law, also threw out the case against the driver. He faced no other charges. 
This isn't the first challenge to the Right of Way law, but previous judges have upheld the law's constitutionality. This Queens Supreme Court ruling is non-binding and it conflicts with, but doesn't overrule, those other decisions. But DNAinfo points out the real sticking point with this decision: Cops were pretty slow to start applying this law, but it seems the NYPD is finally starting to crack down: The number of arrests under this "Right of Way" law is up 63 percent compared to this time last year. Granted that number is still only at 18 drivers total, reports DNAinfo — but there were only 20 total Right of Way arrests in 2015. (A total of 77 people were killed in traffic accidents so far this year, per Streetsblog, an 11 percent drop from 2015.) But now that the law has been successfully challenged, it's possible cops may back away from making these arrests.
The Queens district attorney has the opportunity to appeal the verdict. Mayor de Blasio, who made Vision Zero a key goal of the administration, has said that he disagrees with Judge Morris's verdict, and that law enforcement "will continue to investigate, enforce, and charge this law."