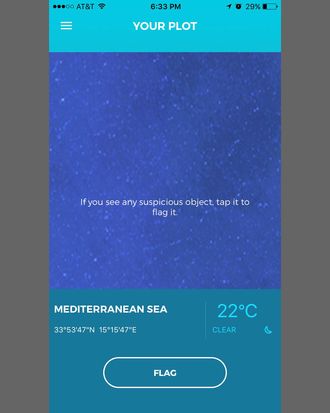 Earlier this month, I Sea, a new app which claimed to let users scan satellite images of the Mediterranean Sea looking for refugees in need of rescue, was hailed as a smart convergence of tech and social justice that just might save lives. The app shows users a small section of water embedded with geographic coordinates. If someone thinks they spot a refugee in distress, they can flag the spot, and the Migrant Offshore Aid Station will be informed. (The app was created in a partnership between MOAS and Grey for Good, the charity arm of Grey Advertising.)
But thanks to an investigation published today by the Daily Dot's Patrick Howell O'Neill, it looks like I Sea isn't all it claims to be. After the app was nominated for a Cannes Lion (think of the Oscars, but for advertising), people began getting suspicious of the app. The weather information on the app, the Daily Dot reports, comes from fake Libyan weather reports. And the so-called different sections of the Mediterranean appear to be the same section repeatedly reused and relabeled. (Not to mention the questionable fact that it is always daylight on the app.)
This Twitter user also pointed out that the sections seem to come from Google images circa 2015.
Even if you do "spot" a refugee in you "section" of the sea, when you try to flag it and report, the app requests several pieces of personal information, including passport number, with no explanation why that data is needed.
The Migrant Offshore Aid Station told the Daily Dot, "technology questions are not our area of expertise" and we've reached out to Grey and will update this post if we hear back. Either way the app has already been pulled from the app store, which doesn't bode well for I Sea's legitimacy.

Update: A Grey representative directed us to this company statement, which says the app is still in "testing mode," and "during this testing period, the satellite images available are not in real-time."