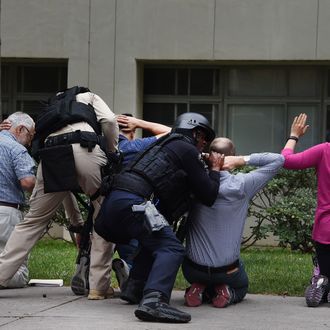 Security personnel check people at the University of California, Los Angeles, campus after two people were confirmed dead following a shooting.
Photo: Robyn Beck/AFP/Getty Images
The UCLA gunman who killed an engineering professor and then shot himself may have also murdered a woman in Minnesota before carrying out his rampage at the California university on Wednesday, according to police. 
Police have identified the gunman as 38-year-old Mainak Sarkar, who is believed to be a former UCLA engineering PhD student. Sarkar used a 9mm semiautomatic pistol to shoot 39-year-old William Klug, a professor of aerospace and mechanical engineering and married dad of two. Sarkar fired on Klug multiple times, killing him. He then turned the weapon on himself. Sarkar wrote a note, found at the crime scene, that asked someone to check on his cat at his apartment in Minnesota.
Klug wasn't the only person Sarkar targeted. Police strongly believe he killed at least one other before he turned his weapon on the professor. Authorities are linking Sarkar to the murder of a Minnesota woman, found dead of a gunshot wound in her home on Thursday afternoon. Her name appeared alongside Klug's and another UCLA professor (who is unharmed) on a "kill list" found after a search of the gunman's Minnesota home.
Neighbors have named the victim as Ashley Hasti, a current medical student at the University of Minnesota, but authorities have not confirmed her identity or relationship with Sarkar. The LAPD requested that local authorities check on the woman after seeing her name listed; she was dead when they arrived at her Brooklyn Park home, says the Minneapolis Star-Tribune.   
Police are trying to piece together the timeline, but say it's likely Sarkar killed the woman and drove his car from Minnesota to the UCLA campus to continue the carnage. It appears Sarkar sought out Klug and another professor, both of whom taught the gunman when he was a doctoral student at UCLA. The second professor, who hasn't been named, was apparently off campus at the time, foiling the shooter's original plan. Sarkar had two pistols and extra ammunition. LAPD chief Charlie Beck told the Los Angeles Times he "certainly was prepared to engage multiple victims."
Klug also advised and guided the shooter on his doctoral dissertation, says the Los Angeles Times. According to the LAPD, Sarkar had accused Klug of stealing computer code that he invented and giving it to someone else. It's unclear what prompted Sarkar to believe that, and one source told the Times that allegation was "absolutely psychotic."
Evidence also suggests that Sarkar had railed against Klug on social media before the shooting. According to the Los Angeles Times, Sarkar posted this angry rant on March 10 of this year:
William Klug, UCLA professor is not the kind of person when you think of a professor. He is a very sick person. I urge every new student coming to UCLA to stay away from this guy.

He made me really sick. Your enemy is my enemy. But your friend can do a lot more harm. Be careful about whom you trust.
Earlier reports that said Sarkar may have been upset about his grades appear to be untrue; he seems to have completed UCLA classes in 2011 and finished his doctoral dissertation in 2014. 
Police do not know for sure yet if Sarkar had a history of mental illness. Until August of 2014 he worked as an engineering analyst for a rubber company. He received his undergraduate degree from the prestigious Indian Institute of Technology in 2000, before coming to the United States to get a master's degree from Stanford.
Confusion and panic marked the early moments of the shooting, as news spread of an active shooter on campus. Students received an alert from the university to shelter-in-place just after 10 a.m. PST. The entire campus was put on lockdown. That order was lifted shortly after noon. "The most important message is that the campus is now safe," Beck told KTLA.
Police and tactical teams swarmed the campus, which has an enrollment of more than 40,000. Police responded to an "active shooter situation" and were sweeping the dorms room by room. Students and professors filed out of university buildings, their hands above their heads. 
Students told campus police they heard a "loud noise and gun shellings drop" just before 10 a.m.; many on campus are preparing for finals, which start next week."The whole campus just started running, and I started running too," a 21-year-old student told the Lost Angeles Times. "Everyone was very confused. We got in a building, and no one knew what was going on."
Students, professors, and others near the UCLA campus documented the intense events on social media as they unfolded. They include images of students in lockdown, and videos with the scream of sirens as emergency responders rushed to the university grounds.
Some engineering students, in the building during the active shooter alert, showed how they jiggered doors — many of which did not lock — to try to barricade the classrooms.
UCLA canceled all classes on Wednesday, but the university resumed a normal schedule Thursday — with one exception. The engineering building, where the police investigation is ongoing, remains closed, and the department canceled all classes for the rest of the week.
This post has been updated to include the identities of the shooter and his victim, among other details.