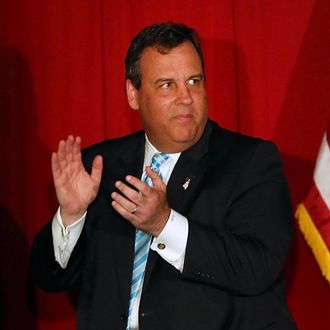 What is the sound of one sad man clapping?
Photo: Spencer Platt/Getty Images
Chris Christie has assured the public that he is not Donald Trump's hostage. But a new report suggests that he may be the Republican nominee's indentured servant. 
The past week has produced countless reports on how the Trump campaign is severely understaffed. But a parenthetical detail in Ryan Lizza's latest campaign dispatch reveals just how shoestring the operation is — and just how far the New Jersey governor has fallen.
Governor Chris Christie, of New Jersey, another of Trump's opponents early in the campaign, has transformed himself into a sort of manservant, who is constantly with Trump at events. (One Republican told me that a friend of his on the Trump campaign used Snapchat to send him a video of Christie fetching Trump's McDonald's order.)
As Mediaite notes, Trump first revealed the master-servant dynamic in his relationship with Christie back in February, when a hot mic caught him ordering the governor to "get on the plane or go home."
Karma is real, and crueler than we'd ever imagined.