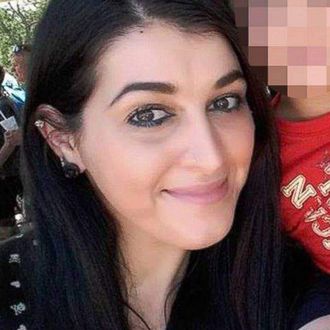 Salman, Mateen, and a 3-year-old boy, believed to be their son.
Photo: Facebook
The second wife of Orlando gunman Omar Mateen has stayed mostly silent in the aftermath of the her husband's rampage at the gay nightclub that left 49 dead. But Noor Zahi Salman is now apparently talking to authorities, and revealing that she may have had knowledge of her husband's bloody plot.
NBC News reports that Salman told authorities she was at least partially aware of his plans to carry out the deadly attack at the Pulse nightclub, and she may have pleaded with her husband not to go forward with the shooting. According to NBC News: 
>
Omar Mateen's current wife, Noor, told the FBI she was with him when he bought ammunition and a holster, several officials familiar with the case said. She told the FBI that she once drove him to the gay nightclub, Pulse, because he wanted to scope it out.
Salman is apparently working with authorities in their investigation, though it's possible she could face charges herself if she knew specifics about Mateen's plotting, says NBC News. 
Salman, unlike Mateen's first wife, Sitora Yusufiy, who came forward publicly to talk about his alleged abusive behavior and to respond to questions about his sexual orientation, has not spoken out publicly. Salman was spotted in the dark, early hours of Tuesday by local reporters returning to the condo which she apparently shared with the shooter, to gather some of her belongings. Her 3-year-old son was in the back seat of the car, according to 7Miami News, which captured Salman in the back seat of the car, a hoodie hiding her face from the cameras.
Salman allegedly married Mateen in 2013, and she's believed to be the mom of Mateen's 3-year-old son. Salman, who is 30, grew up in the Chicago suburbs and lived in the East Bay area, in northern California, before moving to Florida with Mateen. Her family is originally from Afghanistan, according to the San Jose Mercury News.