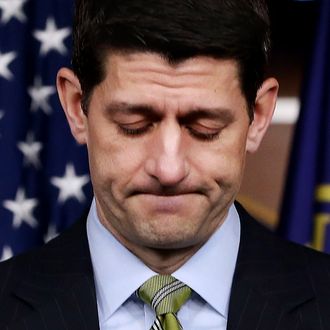 Speaker of the House Paul Ryan.
Photo: Mark Wilson/Getty Images
On Thursday, after weeks of conspicuous hesitation, Paul Ryan endorsed Donald Trump for U.S. president. Hours later, Trump told The Wall Street Journal that the federal judge overseeing two class-action lawsuits against his (bait-and-switch scheme masquerading as a) university was obviously biased against him – because said judge has "Mexican heritage."



The House Speaker once justified withholding his endorsement from the GOP's presumptive nominee by saying, "to pretend we're unified as a party" would be to go into the election "at half strength." But Trump's suggestion that no Mexican-American judge can treat him fairly has proven divisive even among his own campaign staff.
Trump's previous comments about Judge Gonzalo Curiel – and Mexican-Americans more broadly –  inspired the head of Hispanic media relations at the Republican National Committee to resign from her post on Wednesday. While that resignation made for an ugly headline, Ryan could at least take solace in the fact that the story was largely obscured by a torrent of revelations about the GOP nominee's exploitative business practices and apparent attempt to back out of a promised donation to veterans groups.
On Friday, Ryan distanced himself from the racist con man whom he hopes to elect this fall.
"Look, the comment about the judge the other day just was out of left field for my mind," Ryan told WISN radio host Vicki McKenna. "It's reasoning I don't relate to. I completely disagree with the thinking behind that. And so, he clearly says and does things I don't agree with, and I've had to speak up from time to time when that has occurred, and I'll continue to do that if it's necessary. I hope it's not."
Lucky for Ryan, Trump clarified his remarks about Curiel in an interview with Jake Tapper on Friday afternoon. "He's of Mexican heritage. And he's very proud of it," Trump complained, suggesting that he doesn't believe all Mexican-Americans are biased against him – just those who aren't ashamed of their ancestry.
After putting out that fire, the Republican nominee proved his chops as a unifier by participating in an African-American outreach effort.
Paul Ryan picked a bad week to quit snubbing Trump.