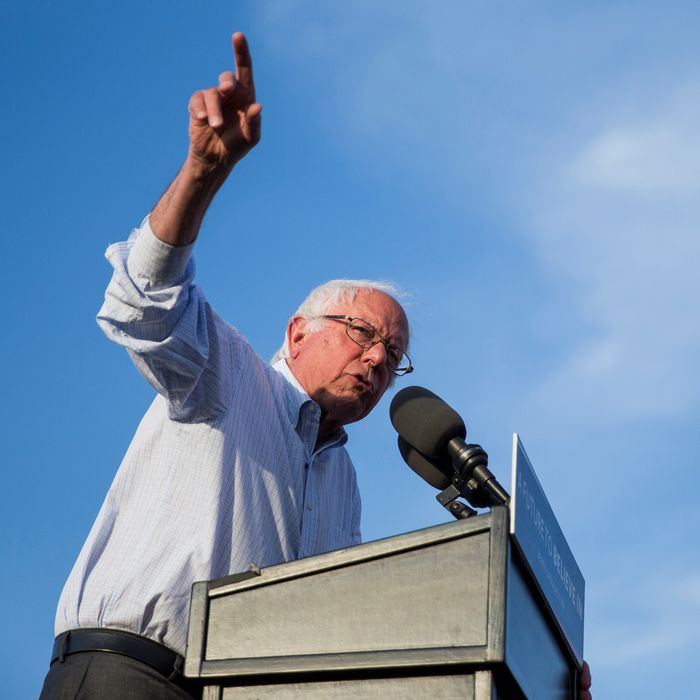 Bernie Sanders just won't quit.
Photo: Samuel Corum/Anadolu Agency/Getty Images
On Tuesday, Bernie Sanders and Hillary Clinton met face-to-face for the first time in months. Their "positive" meeting, which was supposed to last an hour, stretched toward two as they sat in a hotel near the Capitol and, according to nearly identical statements released by their campaigns, talked through the issues. 
Sanders's consecutive meetings with President Obama and Clinton — the first of which came just after Clinton officially clinched the Democratic nomination — have been seen as a sign that the Vermont senator is ready to bury the hatchet and work to unite the Democratic party against Donald Trump. And, in a speech on Thursday, Sanders confirmed that defeating the presumptive GOP nominee (or, as some have called him, Cheeto Jesus) is now his top priority. Sanders indicated that he would work with Clinton to shape "the most progressive platform in … history," but stopped just short of actually conceding to Clinton.
"The major political task that we face in the next five months is to make certain that Donald Trump is defeated, and defeated badly," he told supporters during a live webcast on Thursday night. "And I personally intend to begin my role in that process in a very short period of time." With that, he devoted a few more seconds to Trump-bashing: 
After centuries of racism, sexism, and discrimination of all forms in our country we do not need a major party candidate who makes bigotry the cornerstone of his campaign. We cannot have a president who insults Mexicans and Latinos, Muslims, women, and African-Americans. We cannot have a president who, in the midst of so much income and wealth inequality, wants to give hundreds of billions of dollars in tax breaks to the very rich. We cannot have a president who, despite all of the scientific evidence, believes that climate change is a hoax.
But, he said, his campaign is about more than that: It's about co-operating with Clinton to fundamentally change the Democratic party. "I look forward to working with Secretary Clinton to transform the Democratic Party so that it becomes a party of working people and young people, and not just wealthy campaign contributors: a party that has the courage to take on Wall Street, the pharmaceutical industry, the fossil-fuel industry, and the other powerful special interests that dominate our political and economic life," he said. He also called his and Clinton's views "quite close" on some issues — a phrase that could hint at an endorsement down the line.
So he's willing to work with Clinton, it seems, but he's not ready to fold just yet. Of the 23 minutes he spent addressing supporters, only a few were spent discussing hypothetical party unity.
The rest of his speech was dedicated to rehashing his campaign platform: increasing the federal minimum wage, eliminating student debt, and "creating an economy that works for all of us, not just the one percent." But he also took the opportunity to encourage his allies to run for office on a local level, saying the Democratic party should have a "50-state strategy" and should "open its doors and welcome into its ranks working people and young people," i.e. the people his campaign mobilized.
And although he didn't say it directly, Sanders seems to be counting on the influence of those supporters to buoy him all the way to the Democratic convention. "We must continue our grassroots efforts to create the America that we know we can become," he said. "And we must take that energy into the Democratic National Convention on July 25 in Philadelphia where we will have more than 1,900 delegates."
In short, as the Washington Post points out, Sanders's speech had all the hallmarks of a concession speech — minus the concession. He has evidently abandoned his plan to win the nomination by swaying superdelegates in his favor, but Sanders seems to think there's something to be gained by keeping his gasping campaign alive for another month. Which is all well and good, but when Donald Trump praises you, it might be a sign you're doing something wrong.