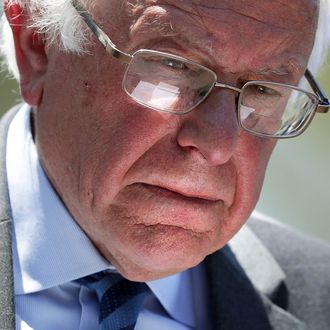 Berned.
Photo: Alex Wong/Getty Images
Update: CBS appears to have retracted the report on which this blog-post was based, writing that their original story's "anecdote about the way ties were decided in the Nevada caucuses" was "incorrect."
You can read the original, discredited blog-post below. But you probably shouldn't.

The Democratic primary wasn't rigged — despite the best efforts of Bernie Sanders's staffers in Nevada. On Monday, CBS News published a postmortem on the Vermont senator's campaign, which includes this anecdote about how Sanders's Silver State director Joan Kato prepared her team for caucus day:
At one point shortly before the caucuses, she instructed staff to buy double-sided coins — in case coin-flips were needed to decide any of the caucuses in the event of a tie, according to staffers.
Anyhow, now that "Sanders actually won the primary" truthers have evidence that their own campaign had a Machiavellian streak — and that exit polls oversample youth voters — maybe we can all get back to complaining about things that are genuinely rigged, like our criminal justice system or this Ford F150.