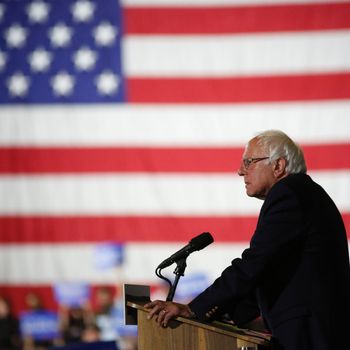 The big stage will be his if wants it.
Photo: Jonathan Alcorn/AFP/Getty Images
So with the feigned benevolence of an HR director offering a laid-off employee a shrunken severance package, the Clinton campaign is letting it be known that Bernie Sanders can look forward to a prime-time speaking slot at the Democratic Convention if he folds his campaign and gets on the Hillary bandwagon forthwith. Former Pennsylvania Governor Ed Rendell even made the offer public, with the air of conveying precious jewels:
>
"If I were advising Sen. Sanders," former Pennsylvania Gov. Ed Rendell, a longtime Clinton ally, said in an interview, "I would say, you've done so fabulously, but there's one thing left you need to do and that's make a speech in prime time at the convention. You only do that if you're not contesting the nomination."
Now it's reasonably well-known that it's difficult to get a Thursday night prime-time convention speech if you are fighting the putative nominee tooth and nail on Wednesday. But no one really thinks Sanders is going to be doing that. And even if he withheld a formal endorsement to the last minute, it's not like convention schedulers are the prisoners of earlier decisions. At the Democratic Convention in 1988, a host of party poohbahs, including future presidential nominee John Kerry, were bumped from the schedule so that Jesse Jackson could endorse Michael Dukakis before prime time ended. If Bernie is willing to say the right things at the right time, he can take his sweet time making the commitment to say them.
Rendell conceded all that:
"If he takes a week or two, it's not important," Rendell added. "What's important is he gets the message out that he's for Hillary before the convention. All the ship has to do is make land by July 25." Campaign officials also remained confident that after the Tuesday night meeting, the two candidates are on a slow path to party unification.