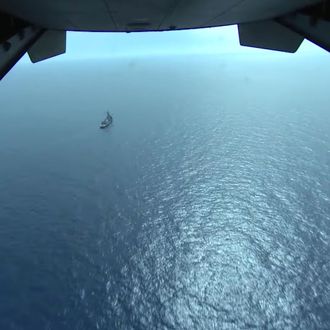 Photo: Egyptian Armed Forces/YouTube
After a nearly monthlong search, investigators have found the second black-box recorder belonging to EgyptAir Flight MS804, which disappeared over the Mediterranean Sea on May 19. Teams pulled up the flight-data recorder — which gives information about the plane's altitude, speed, and direction — about a day after they had retrieved the cockpit recorder from the sea. The plane wreckage was discovered Wednesday, officials said. 
The flight data is on its way to Alexandria, Egypt, where investigators have already started poring over the information in the cockpit voice recorder. Both of the black boxes had some serious damage, but officials said they recovered the memory units where the recordings are stored. Authorities and families of the 66 passengers and crew killed in the EgyptAir crash are hoping these black boxes might explain what happened to the flight in its final moments, and whether a technical problem or something more nefarious brought the jet liner down.