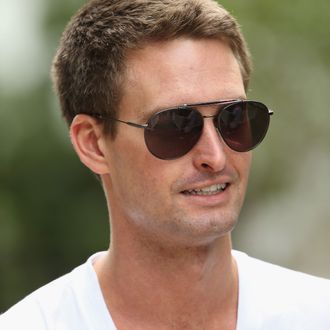 Photo: Scott Olson/Getty Images
Rumors of Snapchat's smart-glasses project have been circulating for several years now. In 2014, the company quietly purchased Vergence Labs, a company that specializes in smart-glasses technology, for a reported $15 million. (News of the acquisition was leaked and not publicized by Snapchat.) Since then, they've slowly hired people away from major augmented-reality companies, but the project has remained shrouded in mystery and rainbow vomit. But apparently all we had to do was take a closer look at CEO Evan Spiegel's face.
On a vacation in Corsica back in August 2015, Spiegel was photographed wearing a pair of black sunglasses that appear to have cameras attached to the lenses and frames. Earlier today Business Insider's Biz Carson reported that a source close to Snapchat told her those glasses were, in fact, an "early prototype" of Snapchat's smart glasses and they were "shocked" that Spiegel had worn them in public. Carson also notes that the glasses look similar to previous Vergence designs.

At this point, these photos of the alleged prototype are nearly a year old, so it's likely the final product will look fairly different from the shades the CEO was rocking back then. So for future hints, let's all continue to take grainy, long-range photos of Evan Spiegel, purely in the name of technology, of course.