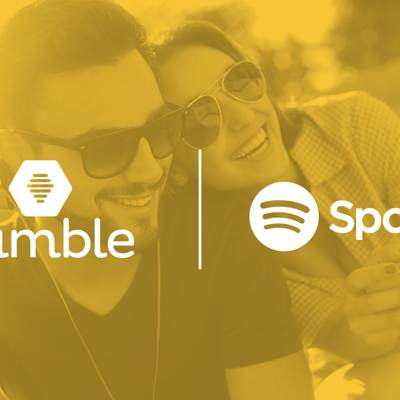 Music-streaming service Spotify is teaming up with dating service Bumble, the app where only women can start the conversation with a match. Starting in the next few weeks, Bumble users will be able to link their accounts to Spotify and potential matches will then be able to see the artists they listen to the most. You'll have to opt in to the new feature, which is good for anybody who doesn't want to electively tell people they are hoping to bang … I mean, people they are hoping to date, that they secretly love Nickelback.
The goal of the partnership, Spotify explained, is "to help people make more meaningful connections with music taste in mind." Which might actually work. (At least until Bumble users enable the option to hide artists they don't want matches to see on the app.) Unlike Tinder, which lets users connect to their Instagram accounts (a social platform notorious for selective curation), your Spotify history likely isn't filtered. If you're a big Blues Traveler, Nicki Minaj, or Linkin Park fan, your potential matches are going to know.
Or as the old dating adage goes: If you can't handle me at my worst ("I just listened to Justin Bieber's 'Sorry' 32 times in a row"), then you can't have me at my best ("I just listened to Justin Bieber's 'Sorry' 32 times in a row").