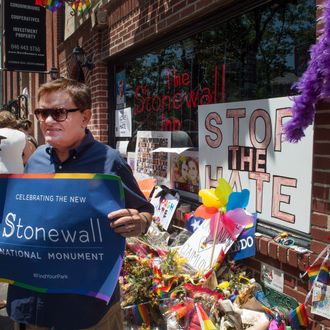 It's official.
Photo: Bryan R. Smith/AFP/Getty Images
New York City capped off Gay Pride weekend with the historic dedication of the Stonewall National Monument. On Friday, President Obama officially designated the bar, Christopher Park, and the 7.7-acre stretch of Greenwich Village to memorialize the site of the 1969 protests. Monday's ceremony celebrated the creation of the first gay-rights monument in the United States, and the arrival of the monument sign.
White House adviser Valerie Jarrett and Interior Secretary Sally Jewell attended the dedication ceremony, along with federal, state, and local lawmakers, including Mayor de Blasio and NYPD commissioner Bill Bratton. New York City named Stonewall Inn a city landmark last year.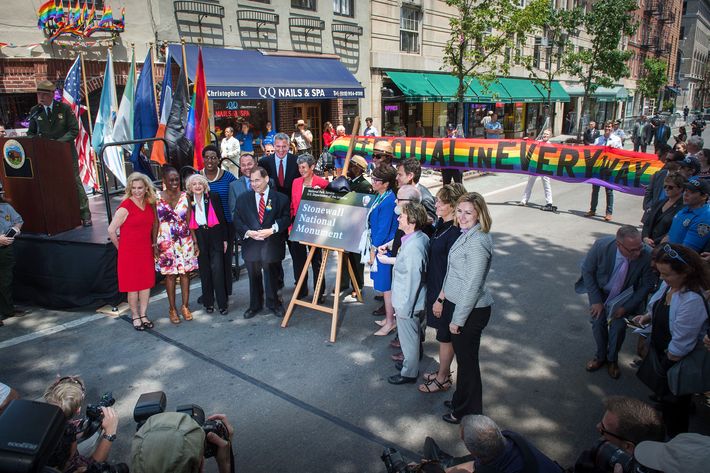 Flowers are still piled outside the Stonewall Inn, a standing memorial to the victims of the Orlando nightclub massacre. The tragedy, Secretary Jewell said, were a "sad and stark reminder that the struggle for civil rights and equality continues – where who we love is respected and honored – on our march toward a more perfect union." On Sunday, before the Gay Pride march, Governor Cuomo said New York City would build a monument to those who lost their lives in the Pulse nightclub mass shooting, and for victims of "hate crimes everywhere." Cuomo also announced that Stonewall would become a New York State historic site.
Revelers cheered the dedication and lined up to get the official Stonewall Monument stamp inked on postcards or in a National Parks passport, which is a real thing.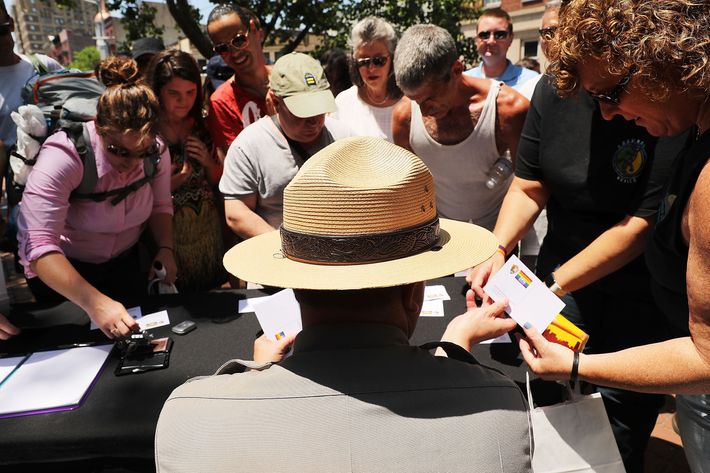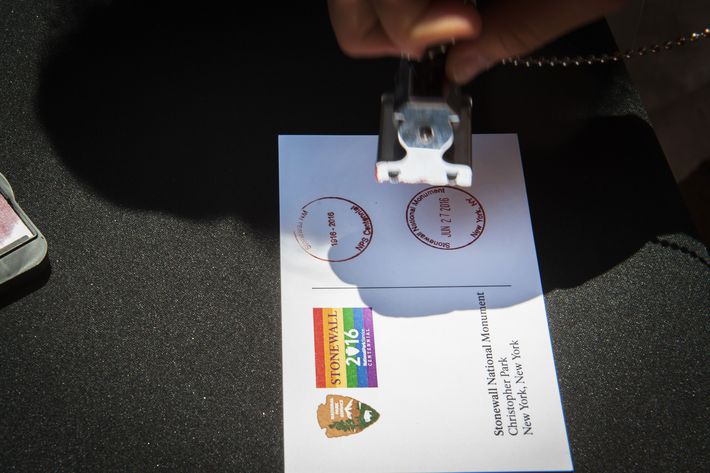 Stonewall joins the likes of the State of Liberty and Governors Island as fellow New York–based national monuments. "It is really honoring the Stonewall veterans," Stonewall co-owner Stacy Lentz told CBS 2, "and everyone who was here during riots and all the people who have worked on the struggle for equality."